2010 James O'Driscoll Distinguished Service Award
Nominations for the James O'Driscoll Distinguished Service Award will be accepted through October 22, 2010. A letter of nomination must describe the specific creative, innovative, and/or leadership efforts of the nominee. In addition, at least two letters of support must be submitted. These supporters need not be NAFSA members. Self-nominations are not accepted.
The next award will be presented during the luncheon at the NAFSA Region X Conference in New Brunswick, NJ, in 2010.
Erika Rohrbach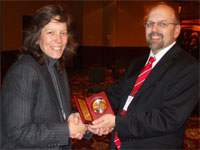 Congratulations 2009 James O'Driscoll Distinguished Service Award Winner.
The 2009 award was presented by Eugene Goldstein. His remarks follow:
As the senior James O'Driscoll Award winner present – I have the honor and privilege of presenting the award to this year's winner. To me, this is truly a privilege and an honor which I gladly accept. I have known the recipient since this person began in the field and have watched this individual's emergence as a leader both within the region and nationally, where our winner has gained, not just the respect of peers, but their admiration.
To paraphrase some of the letters supporting this honoree:
"This is an individual whose dedication and exceptional service to Region X colleges is without peer. This year's winner is one of the most dedicated professionals I know. The winner can always be counted on for accepting responsibilities, giving timely and sound advice, and providing first rate organizational skills."
"The winner has been the most communicative and accessible team member in recent memory whose consistently helpful and timely advice were life savers. The winner has always been a strong advocate for sensible immigration policies and regulations. James O'Driscoll would have loved to work with the winner with that same winning combination of unwavering dedication, clear-mindedness, hard work and irreverent humor that earned James such respect and admiration – as has the winner – and has been so much fun to work with."
"The winner is an individual who has set the bar very high. This is a person who is able to wrap her mind around an immigration conundrum and think it through in all its iterations. She has earned the respect of team members and government officials."
"The winner has been one of those few individuals whose efforts on behalf of the region have been critical to the region's success. The winner has devoted great intellect, integrity, and professionalism to earn the respect of colleagues, as well as government representatives. To paraphrase the immigration act, she is an extraordinary individual who has reached the top of their field as shown by sustained acclaim and achievement."
Jewish tradition talks about a woman of valor as the highest praise for menchlekheit – or being a wise, fine and decent human being. The winner is also one of the most courageous people I have ever had the pleasure of knowing, and has gained the respect of all of her peers. I am also privileged to call her a friend, and I thank her for giving me this opportunity to convey this honor. This year's James O'Driscoll Award is presented to Erika Rohrbach.
Congratulations, Erika!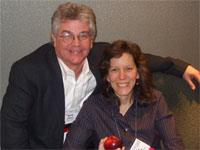 "As someone who has been around long enough to have known and served on the Region X team with the wonderful James O'Driscoll, I would like to say that Erika embodies James' spirit and commitment in ways too numerous to mention. Erika, you are the BEST!"
- Marcy Cohen, Rutgers University

"Congratulations on a very, very well-deserved honor!"
- Howard Henry & Lee Ann Grace, Buffalo State College

"Congratulations Erika - A honor well-deserved! Thank you for the years of service to the Region. It has always been reassuring to know that you are available to help us figure out tricky situations. I was always impressed that you were willing to go the extra mile in your responses. You are terrific!"
- Jackie Leighton, Montclair State University
The Award
Region X annually accepts nominations for the James O'Driscoll Distinguished Service Award, which recognizes outstanding service in the field of international education. Any current member of Region X may nominate an individual who has
given exceptional service to Region X,
furthered the interests of international educational exchange
remained active in regional activities, projects and programs
This award was named in honor of James O'Driscoll who was a mentor to many involved in international education and a colleague to many more. He was a longtime associate of the Institute of International Education (IIE), having joined IIE in the late 1960s. James served as Chair of Region X in 1990-1991 and held national leadership positions in both TESOL and NAFSA. He also sat on the Board of Directors of Metro International. He was instrumental in the establishment of both the American Association of Intensive English Language Programs (AAIEP) and the Consortium of University and College Intensive English Programs (UCIEP). As head of English Language Placement at IIE, he played a significant role in gaining credibility for the TESOL profession and the IEP industry as well as creating and publishing the first ELOPUS. One of his last public contributions to the field was running the TESOL Summer Institute in 1992 in Bratislava, Czechoslovakia. James died in April 1993, ironically during the weekend of the national TESOL conference, the first national conference he had ever missed. James O'Driscoll posthumously received NAFSA's Homer Higbee Award.

Past winners