Nobel Peace Laureate Tawakkol Karman to Address NAFSA 2015 Annual Conference and Expo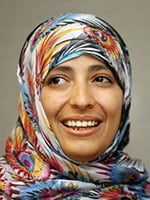 Nobel Peace Prize winner Tawakkol Karman has dedicated her life to building peace, promoting freedom of expression, and advocating for human rights in her native Yemen.
She is the mother of three and is known as the "mother of the revolution" for her role in spurring the 2011 uprising against Yemen president Ali Abdullah Saleh. She has been jailed and threatened, but her commitment to the struggle for equality and justice has remained unshaken.
Karman is devoted to her cause. In 2013, Karman decided to donate her $500,000 in Nobel prize money to an aid fund supporting those wounded and killed in the 2011 uprising. Even today, Karman spends much of her time in a tent in Change Square in Yemen's capital, Sana'a, continuing her peaceful protests for justice and freedom.
"We have the power to end corruption, extremism, and human rights abuses in our society," says Karman. "But we cannot overcome the obstacles and challenges before us until we understand them, and that is why education and open dialogue are the foundation for a peaceful future. It will take full participation from all of us to get there. We each have a role to play in educating our brothers and sisters and the future global leaders of tomorrow."
Karman brings her inspiring story of perseverance and strength to the NAFSA 2015 Annual Conference & Expo on May 29, 2015, in Boston, Massachusetts, when she will address attendees during the 3:00 p.m. Friday plenary session, sponsored by EF Education First.
Learn more about Tawakkol Karman and the 2015 Annual Conference.