Image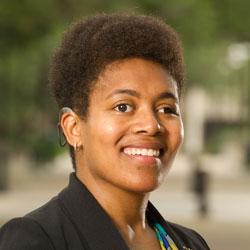 Irene Scott
Program Manager
Texas A&M University
Leadership Cultivation Content Coordinator and Co-Chair, EA Diversity and Inclusion Subcommittee
Irene Scott is a program manager at Texas A&M University. In this role, she oversees processes and implementation of non-university sponsored programs for transfer credit, is the departmental liaison for Texas A&M Disability Resources, and serves on committees for diversity excellence (Texas A&M ADA Compliance Committee, Texas A&M Academic Affairs Climate and Diversity: Climate Survey Subcommittee, and the NAFSA Diversity & Inclusion in Education Abroad Subcommittee).
Prior to joining Texas A&M Education Abroad in 2007, Ms. Scott studied at Bowling Green State University, where she received an MA in college student personnel. Integrating her student affairs background and commitment to equity, she has spearheaded efforts to raise awareness of underrepresented student populations in education abroad, refined internal processes, and coordinated accommodations for program participants with disabilities.
Additionally, Ms. Scott has contributed to the Diversity Abroad Advisor Manual: Access for Disabilities Abroad and collaborated with colleagues on presentations for Mobility International USA, NAFSA: Association of International Educators, and Association on Higher Education and Disability.