Image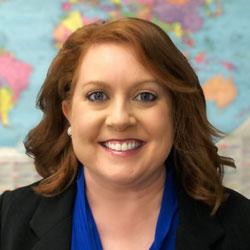 Jody Pritt
Director of International Student and Scholar Services
Georgia State University
2022 Regional Chair Cohort Coach
Jody Pritt is the director of international student and scholar services at Georgia State University and the 2021 regional chair-elect cohort coach.
Jody was the NAFSA Region VII chair responsible for 2015 conference in Savannah, GA and previously served as the NAFSA Region IV treasurer and South Carolina state representative. Jody is a 2012 CIES Fulbright Recipient and the winner of the 2014 Excellence in Diversifying International Education Award from Diversity Abroad and in 2017 she was honored for her leadership on the Region VII chair-stream at the regional conference.
Jody is currently a doctoral student in educational leadership at the University of Missouri-Columbia.