Image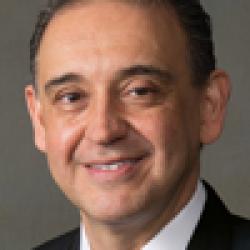 Jorge G. Gonzalez, PhD
Kalamazoo College
Jorge G. Gonzalez is the eighteenth president of Kalamazoo College, a position he has held since 2016. He previously served for six years as Occidental College's vice president for academic affairs and dean of the college. He was a member of the Trinity University faculty for 21 years.
At Kalamazoo College, Gonzalez has championed the value of a liberal arts and science education that is individualized, rigorous, and residential and includes life-changing experiential opportunities. At Occidental, he focused on providing strategic direction to the academic program, enhancing the academic policy structure, and working with external constituents to advance the goals of the college. At Trinity, he played an important role in the internationalization of the curriculum, the creation of faculty-led study abroad experiences, the development of an open-access policy for faculty scholarship, and the implementation of new interdisciplinary initiatives.
A graduate of the Monterrey Institute of Technology in Monterrey, Mexico, Gonzalez earned his master's degree and PhD in economics from Michigan State University. He has published extensively on topics such as foreign investment, undocumented immigration, international trade in the Americas, the Mexican financial system, and the political economy of U.S. trade and immigration legislation. A recipient of Trinity's top teaching award, he has taught courses in micro- and macroeconomics, international trade, economic development, and the economies of Mexico and Spain.
He is currently the president of the board of the F.W. and Elsie L. Heyl Science Scholarship Fund and serves on the boards of the Council of Independent Colleges, Bronson Healthcare Group, Kalamazoo Community Foundation, Southwest Michigan First, and the W.E. Upjohn Institute for Employment Research.