From the Archives: The following was written by Becky Sibley and first published in Volume XXXV, No. 6 of the NAFSA Newsletter from April/May 1984.
Find more selections from NAFSA's history on the From the Archives page

No doubt you have read that the 1984 NAFSA Conference in Snowmass Village, Colorado is going to be "different." To be sure, the setting, climate, scheduling, and location of this conference will not follow the NAFSA norm. In order for everyone to enjoy themselves as much as possible, it is important to know what to expect and to prepare in advance. Hence this guide.
First of all, don't worry about getting there. Snowmass is about 200 miles west of Denver. Twenty flights a day serve the Aspen-Snowmass Airport from Denver. Limousines, vans, and taxis transport air travelers from the airport to Snowmass Village, where the conference will take place. Or you can choose to enjoy the scenic four-to-five-hour drive from Denver, renting a car or taking a bus to the Aspen-Snowmass Airport. There are two routes from Denver, the superhighway via I-70 or the high winding Independence Pass road, which closes during the winter. One thing to keep in mind if you are driving is that the Colorado State Patrol takes great glee in enforcing the 55 mile per hour speed limit, much to the chagrin of uninitiated tourists.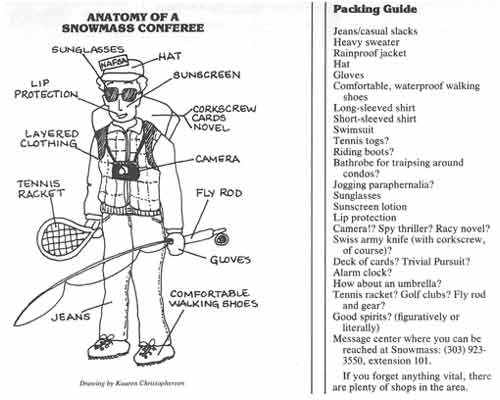 As is the case in all towns in the Rockies, the emphasis is definitely on the out-of-doors. At an altitude of 8,000-plus feet (about 2,400 meters or more), NAFSAns will need to become used to the rarefied atmosphere. This means slowing down the pace, taking it easy on the alcohol and caffeine consumption, and getting lots of rest during the first day or two after arrival. Avoiding large meals, but having some quick energy snack foods can help, too. Arriving a few days early might be a good idea for those who anticipate altitude adjustment problems. If you have a history of heart or lung problems, do consult your physician before coming.
Snowmass Village is spread out on the side of a mountain. Conferees will have a choice of accommodations in resort hotels or fully furnished condominiums. For adventurers, good campsites are available 9-16 miles from Snowmass. Free shuttle buses transport people to and from the various accommodations to the conference buildings. The meetings are scheduled with one-hour breaks to allow for leisurely strolls between the buildings, some of which are a 10-15 minute walk. Because some condos expect payment in cash rather than credit cards, check your housing reservation form to confirm the method of payment. For the budget conscious (and who isn't these days), or those with special dietary considerations, the condos might be ideal. They are all fully furnished, down to the pots and pans, so that money can be saved by cooking meals there instead of eating out. Groceries are available in Snowmass, Aspen, Basalt, and Glenwood Springs. Some of the condos even have special rates for stays of a week, giving the seventh night gratis. Because it is a resort area, expect the restaurants to cost slightly more.
Find more selections from NAFSA's history on the From the Archives page