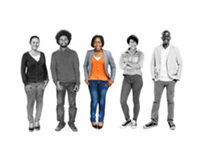 When we first start in the field, it's difficult to stand out. International education is competitive, and many job candidates share the same skills and passions. To be successful, you must find that element about yourself that sets you apart and create a powerful brand around it. But how? You've probably heard generic advice such as you should network, follow your passion, and put your best foot forward. Nevertheless, it's not easy to know where to start with your personal brand.
That's why we have designed a NAFSA 2018 Career Center session that digs a little deeper into personal branding. Instead of sharing clichéd advice, we want to give you a set of actionable steps to make your brand stand out. If your brand is generic or nonexistent, this session is perfect for you.
In our "Developing Your Personal Brand in International Education" presentation, my co-presenter Stephanie Brown and I will share our experiences and expertise to help new international education professionals build their own brands. We are thrilled to present this session at the NAFSA Annual Conference because conferences are a great place to work on branding.
Have you practiced your elevator speech? Do you have a list of goals to achieve? What's your networking plan? Be sure to join us on Tuesday, May 29, at 1:00 p.m. in the NAFSA 2018 Career Center and build your personal branding toolkit.
If you are looking to dive into personal branding before NAFSA 2018, you can prepare for the conference by participating in NAFSA's upcoming e-Learning Seminar, Personal Branding and Career Strategies for International Educators, on April 4. Make sure you are ready to take full advantage of all the great networking and professional development opportunities that will be available in Philly!
---

Samantha Potempa is the assistant director for study abroad at Illinois State University.