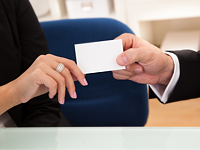 As the NAFSA 2016 Annual Conference & Expo approaches, it's time to start thinking about what you want to accomplish. Whether you are new to the field or a seasoned professional, networking should always make your to-do list. Networking with other international educators will provide you with some of the best takeaways from the conference; you will increase your knowledge, build your reputation, and expand your sphere of personal and professional connections. Here are some helpful pointers on building and managing the connections you make at NAFSA 2016.
1. Be targeted. Prior to the conference, take the time to develop a list of individuals with whom you would like to meet. The NAFSA mobile app (included as part of your conference registration) is a great tool to help you ascertain which organizations and individuals will be in attendance and start connecting with them now. While scheduling meetings is important, don't forget to attend the networking receptions and events sponsored by NAFSA, universities, private organizations, and other countries. Some of the best networking opportunities occur informally at these events—you never know who you might meet.
2. Be mindful. Networking typically entails the exchange of business cards, as it is an easy way to share contact information. Make sure you bring plenty with you to the conference! When you receive a business card take a moment to jot down how you met the person (i.e., the date, location, and any important points from your conversation) on the back. NAFSA 2016 will be quite a busy week, so you will most likely want to tackle your follow-up after the conference. Having these details will help you remember your conversation when you are ready to connect with the individual again.
3. Be focused on quality, not quantity. While networking, make sure to navigate the room with purpose. Focus on meeting new people and having meaningful conversations. Saying "hello" to 50 people and exchanging business cards is less valuable than having a thoughtful and astute conversation with three to five people. These high-quality interactions have greater potential for future referrals and continued relationships.
4. Be organized. Keeping business cards organized makes the postconference follow-up and management of contacts simpler. Instead of using a Rolodex or a drawer for storage, consider electronic organizational apps such as Evernote or CamCard. These free apps allow you to scan business cards, store contact information, create digital contact notebooks, and even locate new contacts on LinkedIn.
5. Be proactive. In order to develop your meaningful conversations into meaningful connections, it is important not to let those business cards lay dormant. Following up within a week of the conference should be a top priority. When contacting someone through LinkedIn avoid sending the generic request stating: "I'd like to add you to my professional network on LinkedIn." Rather, use the info you jotted down on the back of his or her business card to send a more personalized greeting such as, "Dear X, It was a pleasure meeting you at the NAFSA annual conference last week. I enjoyed our conversation about (insert topic here) and would like to stay connected to continue the conversation." A request with a personalized greeting is not only more genuine, but is also better received.
Following these pointers will help you make the most of the conference and your new connections.
---
Interested in learning more? Join me and my colleagues, Jodi Simek and Sonya Brauchle, on Wednesday, June 1, from 4:00 p.m.–4:45 p.m. for our presentation, "The Power of Constructive Networking and Building your Reputation," in the Career Center located in Four Seasons Ballroom 4.