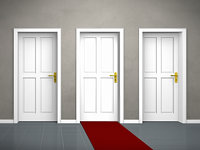 The Forum on Education Abroad reports that 87 percent of its members hold a master's degree or higher, and the Association for International Education Administrators found that 81 percent of senior international officers hold doctoral degrees. It seems like everyone you have met has told you that you need a graduate degree to move up in the field. So you decide to take the plunge and apply for a graduate degree program in international education. The dilemma now is choosing the right program. How can you tell what the program will be like and what it can offer you?
The first key decision to make is whether you want a more theoretical, research-based curriculum or a more applied curriculum. At the doctoral level, this is typified by the choice between the PhD and EdD. In the United States, the doctor of philosophy (PhD) degree typically takes six years to complete, and, as the name suggests, is often theoretical in focus. Following approximately two years of full-time course work, including courses on research methodology, the PhD student will embark on three to five years of research to carry out and complete a dissertation. The emphasis is on creating new understandings of phenomena in international education through research, with recommendations for practice.
A doctorate of education (EdD) degree in the United States usually takes three years to complete, and consists of two years of course work and a year to complete a dissertation. Many EdD programs are structured for working professionals and offer courses on the weekends, evenings, or online. Assignments are usually focused around practical applications. For example, if you are learning about assessment in an EdD course, you will be asked to assess something in your workplace as your primary assignment. The emphasis of the degree is typically on developing practitioners who are highly informed by research and go on to become visionary leaders in the field.
This contrast between applied and more theoretical, research-oriented programs exists within master's level graduate programs as well, though you have to read between the lines a bit to determine the program's emphasis. The website of a more applied program will highlight the career outcomes available to students, while a more research-oriented program will (obviously) focus on research and will also frame the master's program as a pathway to a PhD program. Both types of programs have alumni who work as practitioners, as well as alumni who go on to study at the doctoral level, but there is a difference in the level of emphasis that they place on each.
When exploring the curriculum of different degree programs, look closely at the titles of the courses. Is there more of an emphasis on theory, research, policy, or practice? All programs should address each of these areas, but to varying degrees. Does the curriculum emphasize the applied skills of the international education practitioner, or does it seem to offer a more abstract exploration of global phenomena?
You can advance your career with either type of degree. You can move forward as a practitioner, a researcher, or even as a scholar-practitioner, actively engaged in both. When choosing your path, read between the lines of a graduate program description to determine the degree of emphasis placed on practice versus research and theory. Then, it is a question of which excites you more. Do you thrive in a setting where you can apply the latest research findings to design and run outstanding programs? Do you want to dig into the nitty-gritty of program design and management? Or, do you want to focus on the big picture questions? Are you inspired by the opportunity to develop a theory or model that helps us understand and explain the phenomena we see? Follow your instincts and you will find a program that is just right for you.
---
Interested in learning more? Join me on Wednesday, June 1 from 12:00 p.m.–12:45 p.m. for my presentation, "Pursuing a Graduate Degree in International Education," in the Career Center located in Four Seasons Ballroom 3.