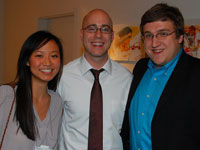 As usual, this year's Region VI conference, held in Louisville, was a whirlwind of sessions, networking opportunities, luncheons, guest speakers, and, of course, the chance to connect with fellow international educators. It is incredibly rewarding to share stories with colleagues you haven't seen in a year, have a discussion with others who understand the many acronyms we use, or play the "where do I know you from?" game. I always return to the office after the regional conference with a renewed sense of purpose and enthusiasm.
This year was especially invigorating for a number of reasons. We had an incredible turnout at the Newcomer's Orientation Breakfast this year, which I think is a testament to the increased interest and professionalism in the field. As always, there were many packed sessions that were standing room only. The members of Trainer Corps need to be recognized for all that they do administering the preconference workshops. Similarly, the conference wouldn't run as smoothly as it did without the army of volunteers that helped out with conference evaluations, greeting conference attendees, and doing whatever else was asked of them.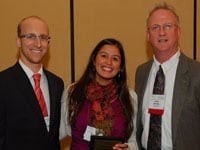 This year's Case Study Conundrum continued to offer a valuable experience for participants. For those who don't know what the Case Study Conundrum is (and I suspect that most of you don't since it is native to Region VI), I will provide some background and details. Six years ago Jill Jean-Baptiste introduced this event to the Region VI conference. It is a competition between teams made up of two to three international educators with three or fewer years' experience who are tasked with solving a number of problems at a fictional university. The issues change each year and range from increasing study abroad numbers by 50 percent to doubling the international student population on campus. There are a host of other variables such as finding a way to better integrate international and domestic students, internationalizing the campus and curriculum, and creatively solving funding issues.
Participants receive the "conundrum" at 5:00 p.m. on Sunday night and have roughly 24 hours to brainstorm solutions to the problem before presenting their ideas to three judges in 10-minute sessions. It's quite a challenge and a lot to ask from the teams. But speaking as a past participant, it is an amazing experience. You have to be realistic, creative, and conscious of getting your points across quickly and clearly. There is quite a lot at stake for the participants. A free conference registration for the following year goes to the victors—but even more importantly, the winners get bragging rights for the following year! On a more serious note, the competition teaches important problem-solving skills that international educators experience every day.
I look forward to next year's Region VI conference in Columbus, Ohio. The Buckeye State is eager to welcome fellow Region VIers and highlight all that our capital city has to offer.