In Denver, one thing is certain: with all of the mountains, trails, and picturesque overlooks you can find in the area, you'll never run out of day trip options! There are so many enjoyable things to do.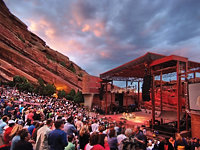 One must-see destination is Red Rocks Park! I enjoy hiking around here during all seasons of the year. Beautiful red rock formations pave the way to an open-air amphitheater where you can find astonishing views of downtown Denver. If you have the time, I highly recommend catching a concert here. It's the best outdoor venue on earth, hands down. Check out the Red Rocks schedule.
Looking to venture a bit further out and get lost in the landscape? The Rocky Mountain National Park draws 3 million visitors annually and is one of the most popular attractions in Colorado! In this wilderness abyss, you'll find 359 miles of hiking trails, 150 lakes, 60 mountains over 12,000 feet, and wildlife such as elk, Bighorn sheep, and moose. This is certainly worth a day trip!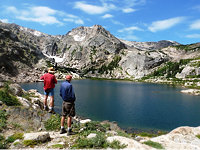 Estes Park is a cute, touristy town on the outskirts of Rocky Mountain National Park. This small town boasts galleries, shops, and boutiques. Wildlife enthusiasts and outdoor adventurists will enjoy the world-class hiking, rock climbing, scenic drives, and ample sightings of elk and big horn sheep. The Stanley Hotel is famous not only for inspiring the movie, The Shining, but also for its charm, spectacular views, and ghost tours.
For a relaxing and aesthetically pleasing getaway, check out the Denver Botanic Gardens. You won't be the only daydreamer wandering through the beautifully displayed gardens, which include plants from all over the world! It's little surprise that this is one of the top 5 botanic gardens in the nation. Located just north of Cherry Creek shopping area, the gardens would be a perfect place to visit after browsing the boutiques and shopping mall.
If you're looking to explore a nearby chic town, I highly recommend Boulder! Tucked below the Flatirons and surrounded by enchanting mountains, Boulder hosts some of the region's best restaurants. It has a thriving natural foods industry and has (in my opinion) one of the most charming bike paths in Colorado. Wander down the Pearl Street Mall, which is lined with unique shops, trendy restaurants, and entertaining street performers. I sometimes drive to Boulder just to visit the Dushanbe Teahouse, an import from Tajikistan (Boulder's sister city). It has the best chai I've ever tasted!
After a long week at the NAFSA conference, you may be ready for a bit of rest and relaxation. Chill out like the locals do and visit one of the many rejuvenating mineral hot springs! The closest to Denver is Indian Hot Springs, located in the old mining town of Idaho Springs. Their geothermal caves are amazing! However, my all-time favorite is Strawberry Park Hot Springs, located in Steamboat Springs. It's a bit of a drive (3 hours) but the trip is well worth it.
Golden is another fun town to explore and is easy to get to. Home to the Buffalo Bill Museum and Grave, the Colorado Railroad Museum, and the Golden History Museum, Golden is the most historic town in the state! The rugged location makes it an ideal destination for biking, hiking, and kayaking. The downtown area has a variety of shops, galleries, and restaurants. No trip to Golden would be complete without stopping by the Coors Brewery—the largest single-site brewery in the world!
---

Michele Friedmann is the Local Arrangements Team (LAT) communications chair for the NAFSA 2016 Annual Conference & Expo. Michele was born and raised in Reading, Pennsylvania. She attended Gettysburg College where her love for study abroad began. Michele spent a semester in Australia, circumnavigated the globe on Semester at Sea, and student taught in London. Michele earned a master's degree from the School for International Training in the area of international education. She interned for Barcelona SAE as a program and student adviser. She has worked for the Institute of International Education and the Fulbright Foreign Student Program. Michele is currently the student and program manager for Global Players, a study abroad program geared toward student athletes.