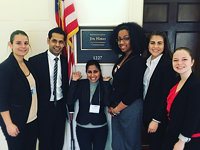 Map? Check. SmarTrip? Check. Hill appointments confirmed? Check. In March, at the 2016 NAFSA Advocacy Day, more than 100 NAFSA advocates, representing over 30 states and districts across the United States, came to Washington, D.C., to address topics integral to international education with their elected officials on Capitol Hill. Advocates shared the benefits of international students coming to the United States, the importance of American college students studying abroad, high-skilled immigration reform, and the need for betterment of U.S.-Cuba relations.
One particular group that came to Advocacy Day represented Southern Connecticut State University (SCSU). I had the opportunity to follow this dynamic group throughout the day. They were a diverse and energetic group of 10 students and four faculty members who came to meet their congressional delegation. Excited and talkative, the college students strategized how they were going to engage with their leaders. The group met with staff from the offices of Senator Richard Blumenthal and Representatives Rosa DeLauro and John Larson to discuss high-skilled immigration reform and legislation that would end the U.S. trade embargo and travel ban on Cuba.
When I asked them why they were participating in Advocacy Day, the students spoke about their experience abroad and how they believe Cubans and Americans should be able to have that enriching exchange. The SCSU group not only came in with strong numbers, but they also came in with rich stories and experiences. Eager and unabashed, the students were excited for the day. Each student had a pivotal role in showcasing their advocacy and persuasion skills.
The students expressed the importance of studying abroad and how it has enhanced academic and professional careers, leaving them fulfilled and accomplished. In their meetings on Capitol Hill, I watched the students transform into advocates right before my eyes. They told congressional staffers about the Cuba Trade Act (H.R. 3238),  and Freedom to Travel to Cuba Act  (S. 299; H.R. 664), bills that would provide a promising ground for international exchange.
One student, Alicia Divito, traveled to Italy in the Fall 2015 semester where she was immersed in Italian language and culture. She ecstatically explained to Senator Blumenthal's education policy and foreign policy staffers about her experience. Valuing her experience abroad, Divito stated that Cuban and U.S. students should have the opportunity to do so as well (see a NAFSA analysis of the number of U.S. students studying in Cuba). But the embargo and travel ban currently make these educational exchanges unnecessarily difficult (view the NAFSA legislative chart). The travel ban and embargo on Cuba limit economic, cultural, and academic exchanges between Cuba and the United States.
Ekaterina Vezhenkova, an international student from Russia, revealed her firsthand experience of her education thus far at SCSU. She expressed her desire to continue her education in the United States and that high-skilled immigrants are beneficial to this country.
In Senator Blumenthal's office, the staffers were also study abroad alums who were able to travel to Athens and Thailand. The staffers expressed how their academic endeavors and professional careers benefited from having a study abroad experience.
Thanks to our advocates, 13 additional representatives have cosponsored the House Cuba travel bill and one additional Senator has cosponsored the Senate Cuba travel bill. NAFSA's Advocacy Day depends on students and international educators to share their stories and continue the dialogue with their elected officials to help advance policy. Advocacy Day 2016 was a success thanks to these students and all our other advocates.
But advocacy doesn't happen just in one day, it is most impactful when relationships are built over time. To stay up-to-date on how you can take action year-round, sign up for action alerts on Connecting Our World and join the NAFSA Cuba Engagement Initiative community on Network NAFSA.
---
Kashanna Fair is an intern working with the Public Policy team at NAFSA: Association of International Educators. She has a B.A. in International and Global Studies from the University of North Carolina at Greensboro.