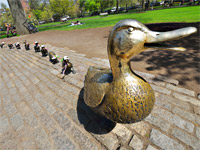 As you prepare for the NAFSA conference, I imagine you have been researching websites and guidebooks to figure out the places and activities you have to see and do in Boston. Given the scope and history of Boston, it can be overwhelming, but here are some great hidden, neighborhood gems you should add to your itinerary for that native Boston experience.  
For the best live, just-off-the-boat lobster try James Hook & Co. Located within walking distance from the Boston Convention and Exhibition Center, this family-owned establishment has been a major distributor of fresh seafood to thousands of retailers in the area since 1925. This seafood stand is not big on formality, but once you get a taste of that delicate sweet flavor of fresh lobster, you will appreciate the simplicity of the rustic picnic tables overlooking the beautiful Boston Harbor.
Where can you go to see art from several different time periods and cultures, enjoy a moment in the sun as you sit among hydrangeas in an outdoor courtyard, and get $2 off your admission when you wear Red Sox paraphernalia? The Isabella Stewart Gardener Museum! Located in the Fenway Park area, this hidden gem offers visitors beautiful views of master paintings, sculptures, furniture, textiles, and even a French Gothic chapel where an Episcopal mass is celebrated daily.
There are a few other gems to enjoy in and around Boston's Public Garden. Although it might appear to be an activity reserved solely for children, a ride on the Swan Boats is a treasure for people of all ages. Sit back and leave the paddling to the park's crew member, as you enjoy the picturesque views of the city and hear about the history surrounding this attraction dating back to the 1870s. Tickets, which are priced at $3.50, can be purchased at the point of departure under the suspension bridge. With six boats operating continuously, the line moves quite quickly.
Do you remember that duck couple and their chicks who couldn't seem to cross that busy intersection without the help of a friendly police officer? A sculpture created as a tribute to that well-known children's book,Make Way for Ducklings, has become a famous photo op for tourists and Bostonians. This sculpture can also be found in the Public Garden, by the corner of Beacon and Charles streets.
Do you want to go where everybody knows your name?  Just across the street from the Public Garden at 84 Beacon Street lies a familiar pub and restaurant. Familiar, that is, if you remember the TV show "Cheers." The exterior of The Bull and Finch Pub, used for this comedic sitcom, hasn't changed a bit. Whether or not you watched Cliff and Norm debate or laughed at Coach's flightiness, you can stop in for a brew or burger and feel at home, away from home.
If you are looking for something memorable and romantic, the Boston Gondola Tours will hit the mark. Enjoy views from the Charles River as you sip champagne, listen to live music, and relax in an authentic gondola crafted in Venice.
The Harpoon Breweryoffers a fun tour where you can learn about the process of making this famous ale. Located right in the seaport area, for a mere $5, patrons can taste the latest brews and enjoy a pretzel or two along the way.
And let's not forget the Boston Tea Party Museum, where you can learn about the events that sparked the American Revolutionary War by joining Samuel Adams and other Sons and Daughters of Liberty as they storm the wharf and board a replica ship, throwing barrels of tea overboard to protest "taxation without representation." This gem is also just a short walk from the convention center.
For those of you who know Boston well, do you have any "hidden gems" to add to my list?
---

Clare O'Brien is the Local Arrangements Team (LAT) communications chair for the NAFSA 2015 Annual Conference & Expo. Originally from Buffalo, New York, Clare has lived in the Boston area for more than 20 years. She spent close to 10 years overseeing international student advising and study abroad at Fitchburg State University in Fitchburg, Massachusetts, and worked as an international educator in Wisconsin, New York, and Massachusetts while she earned both her master's and doctorate degrees. Clare currently works part-time as an international education consultant where she has assisted several local universities and third-party providers. She is also coediting an anthology of short stories titled From Bangkok to Boston: Inspiring Stories of Travel and Adventure from International Educators.