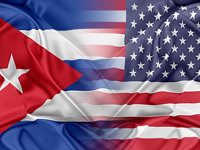 UPDATE: We congratulate Chairman Collin Peterson and the House Agricultural Committee for passing legislation to open travel to Cuba.
At 4:42pm on June 30, 2010, the House Agriculture Committee passed H.R. 4645, the Travel Restriction Reform and Export Enhancement Act, to restore the right of all Americans to travel to Cuba and expand agricultural exports to Cuba. The legislation will now go the House floor for a vote. That vote could happen later this summer.
Stay tuned for further opportunities to support this bill as it makes its way through Congress.
---
History could be in the making today as the House Agricultural Committee votes on H.R. 4645, the Travel Restriction Reform and Export Enhancement Act, which aims to lift restrictions on U.S. travel to Cuba. Today's committee vote will determine the bill's future: whether it will be brought to a full vote in the House, possibly later this summer, or die in committee like all legislation focused on opening travel to Cuba that has been introduced to date.
The vote is scheduled to take place during the House Agricultural Committee Meeting today at 2:00pm EDT in the Longworth House Office Building in Washington, D.C. If you can't make it to Capitol Hill and want to watch the vote, you can tune in through the Ag Committee's website.
Please take a moment NOW to let your Representative know that you support this measure that would give all Americans the right to travel to Cuba. To stay up to date and support the lifting of restrictions on travel to Cuba, join NAFSA's grassroots advocacy community at Connecting Our World.