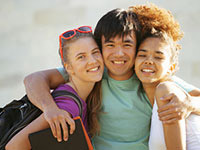 Nearly every established organization began as a new, innovative, and sometimes controversial concept. From the dawn of commercial air travel in the 1950s to the development of the Internet in the 1990s, a review of the New York Times archives from those periods will unearth more than a few skeptical editorials about the purpose, value, and role of the new startups of the time.
The world of international education is no different. AIFS may have celebrated their 50th anniversary as a leader in our field last year, but they were a small startup in the 1960s with big aspirations and a concept and mission that were relatively untested. In recent years, we've seen the rise of the international internship. Providers like Global Experiences, CRCC Asia and EUSA were innovators in the internship arena. Today, we see nearly every major provider and university building an international internship program.
What's next on the innovation horizon for the world of international education and study abroad? Below are a number of categories we feel are in need of innovation or where innovation is occurring.
Program Design and Structure
With more and more summer study abroad, faculty-led programs, service-learning experiences, J-term, Maymester, and other similar programs being offered, we're certainly seeing an increase in shorter-term program options. How can innovation help ensure that students in shorter-term programs walk away with a deeper understanding of the academic topic as it relates to the host country without having experienced the deeper interactions that a longer-term program often provides? Leaders and innovators in our field are continuously evolving study abroad program designs.
Real-World Preparation, Return on Investment
With the overall rising cost of higher education and a discouraging job market for new grads, study abroad is still seen as a luxury to many students and their parents. Some institutions are exploring for-credit gap year opportunities to newly admitted first-year students. A growing number of providers and universities are focusing on the transition from study abroad student to gainfully employed study abroad alumni. Now more than ever, we need to bridge the gap between philosophical learning with practical application and problem solving in the real world. Students are asking "Is study abroad worth it?" It's our job to design programs that make the answer a clear "yes...and here's why."
Increasing Male Participation
It's not a new trend that more women participate in study abroad than men. There's been plenty researched and written about the topic from a historical, curriculum, and women's issue perspective. But a number of questions still remain: How do we get more men to study abroad? And are we offering programming which adequately addresses the interests of men? If we all believe that study abroad is a critical part of intellectual development and garnering a global perspective, we're leaving far too many men behind.
Online Education
Online education is poised to bring some very large changes to universities. With the progress of companies like Coursera, Udacity, and 2U, a tipping point is fast approaching. But how will this affect the world of education abroad? This is clearly a very complex issue that requires us to think strategically not only about program design and student advising, but also about our own professional agility and marketability as the international education profession morphs with education delivery.
Bringing More Diversity to Study Abroad
In 2002, 17% of all study abroad participants were students from a diverse background. In 2013, it was nearly 24%. That's a nice increase, but it's not nearly where the numbers should be. As a field, we still need far more people from diverse backgrounds in leadership positions. Often the issue of diversity in study abroad stems from other larger issues facing the field as a whole, such as affordability (mentioned below), curriculum integration, family considerations, real-world value, all of which make it especially challenging for diverse groups to justify the investment in study abroad. Recent large-scale initiatives to increase diversity in education abroad have made a big impact, but where this battle will be won is likely at the local level at universities and in international education organizations across the country.
Making Study Abroad More Affordable
What can we do as international educators to help make the education abroad experience accessible to more students? Innovation for improving the affordability of study abroad could include new approaches for creating and managing "approved program" lists, allowing institutional aid to travel with students, and the growing use of "international programs fees" to help support scholarship or grant money for those students who do go abroad for educational opportunities.
In Conclusion
We hope the above has served to jump-start your creative side. Like all fields, international education can use some new ideas. We'd encourage everyone to challenge themselves to find new, innovative ways to serve students. We're all extremely lucky to work in a field where we have the ability to change lives on a regular basis. When you are in Boston later this month, share your thoughts with Mitch. He'd love to hear your ideas. Unfortunately, Brooke Roberts will not be attending this year's NAFSA Conference. However, she is happy to hear your ideas anytime at [email protected].
---
Announcing the Innovation and Entrepreneurship MIG
If you're interested in innovation, feel free to join the inaugural meeting of the Innovation and Entrepreneurship Member Interest Group (I&E MIG). The meeting will take place at the NAFSA Career Center on Thursday afternoon from 4:00 to 5:00 p.m. (EDT). All international educators interested in innovation and entrepreneurship are welcome to attend. Bring your creativity!
You can also join Mitch Gordon at the NAFSA 2015 Annual Conference and Expo on May 27 for his Career Center presentation "How to Have an Innovative and Entrepreneurial Career." Mitch will be discussing how to plan your own career in an innovative and entrepreneurial manner. Expect an innovative, collaborative, and interactive presentation. In other words, bring your ideas!
---
Mitch Gordon is currently the CEO and cofounder of Go Overseas and the entrepreneur-in-residence at the University of California-Berkeley. Previously, he founded Reach to Teach and lived in Taipei, Taiwan, for 5 years.
Brooke Roberts has worked in international education and youth travel for more than a decade and is the founder of Inside Study Abroad, an online resource designed to encourage students and aspiring and current international education professionals to explore the global life. Brooke is also the founder of the Global Pro Institute and Yoga Travel Tree.