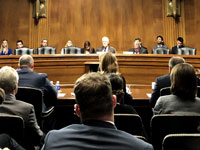 NAFSA's Deputy Executive Director for Public Policy Jill Welch testified before the Senate Judiciary Subcommittee on Border Security and Immigration yesterday. The hearing, "Student Visa Integrity: Protecting Educational Opportunity and National Security," was chaired by Senator John Cornyn (R-TX). Representing NAFSA's 10,000 members, Jill Welch acted as an expert witness on the importance of international education to U.S. national security and economic prosperity. (Read Jill Welch's full testimony).
Importantly, NAFSA was not the only advocate for international students at the hearing. Despite the potential for unwelcoming rhetoric—especially considering the original title was "A Thousand Talents: China's Campaign to Infiltrate and Exploit U.S. Academia"—the senators and panelists agreed that higher education and international education are vital to U.S. progress and security. Senator Cornyn opened the hearing by stating that the American higher education system is considered the "Crown Jewels" of what the United States has to offer the world and is vital to diplomatic efforts. He went on to say, "I am not interested in restricting student visas…I have long been an advocate for expanding H-1B visas and other visas for foreign students." Subcommittee ranking member Senator Dick Durbin (D-IL), a longtime champion for international education, went on to reference the $37 billion that international students bring to the United States (www.nafsa.org/economicvalue).
Senator Durbin also shared some sobering statistics to set the stage for the hearing. "We've seen new international student enrollment drop by 3% this year across U.S. higher education institutions, and that number is expected to double next year, while other countries are seeing double-digit increases," explained Senator Durbin. This negative trend concerned panelists and senators alike; Edward Ramotowski, Deputy Assistant Secretary for Visa Services at the Bureau of Consular Affairs at the U.S. Department of State, emphasized that more than a dozen heads of state around the world have studied in the United States, supporting the idea that international education strengthens diplomacy and that we must send a welcoming message to potential international students. Senator Mazie Hirono (D-HI) confirmed the lengthy procedures and tools already in place to prevent a breach in security, and the panelists agreed that this conversation should be more about awareness of potential risks rather than unnecessary actions that may further damage the U.S. higher education system's ability to recruit and retain the best and brightest from around the world.
One main takeaway from the hearing based on the various testimonies is that the government is committed to upholding national security while at the same time creating a more globally engaged and welcoming United States. "We want you to make America more successful," was Senator Durbin's message for international students as he referenced a past Senate immigration bill that would have allotted more green cards for international graduates from U.S. higher education institutions. Senator Amy Klobuchar (D-MN) passionately acknowledged that "immigration does not diminish who we are as a country; it is who we are as a country."
Jill Welch ended her role in the hearing with: "It would be amazing to see people come together and pass something positive for our immigration system," and Senator Cornyn immediately followed up by saying, "I agree."
NAFSA's role in this hearing would not have been possible without the fast work from our advocates, who are on the front lines of international education every day. Stories are absolutely vital to our advocacy efforts in making the case for international students and why we need a more globally engaged and welcoming United States. Last week, during NAFSA's 2018 Annual Conference and Expo, international education advocates quickly answered the call for stories about the positive impact Chinese students, scholars, and faculty make across the country. We were able to incorporate several of these into Jill Welch's written testimony:
Nanshu Lu, originally from China, earned a master of science and PhD from Harvard University. She is currently teaching U.S. students as an associate professor of biomedical engineering at the University of Texas at Austin. She developed a first-of-its kind malleable "electronic tattoo" that can measure health data to allow for more accurate monitoring by doctors. The hair-thin, skin-soft, noninvasive, and long-term wearable electronic tattoos are able to fully conform to soft and curvilinear human skin for mobile sensing, stimulation, and energy harvesting. Dr. Lu has been recognized by the MIT Technology Review as one of 35 innovators under 35, and she was awarded the National 6 Science Foundation CAREER Award as well as the Air Force Office of Science Research Young Investigator Award.
After earning her PhD in environmental engineering at the University of Illinois at Urbana-Champaign, Qilin Li joined the Rice University faculty in 2006, where she continued her research on using solar energy and nanotechnology to develop energy efficient water filtration, wastewater reuse, and desalination technologies. Working in collaboration with colleagues across Rice University, Li's aim is to find a solution for a sustainable water supply. Currently, Li serves on several environmental science boards and committees, including the National Science Foundation's Nanosystems Engineering Research Center for Nanotechnology Enabled Water Treatment and the Environmental Protection Agency's Science Advisory Board's Environmental Engineering Committee.
Yinyong Li earned his PhD at the University of Massachusetts-Amherst, researching nanotechnology and the fabrication of advanced surfaces. He developed a biodegradable, waterproof coating that reduces fogging on glass surfaces at 10 times the effect of its competitors. Recognizing the marketability of this technology, he teamed up with his PhD adviser, Dr. Kenneth Carter, and an undergraduate researcher at University of Massachusetts-Amherst, Marc Gammell, to form Treaty LLC, with the aim of mass-producing the technology for consumer use. Treaty LLC received several innovation grants, including from the National Science Foundation, and launched their product "FogKicker" to great success. FogKicker is targeted toward the athletic wear field, focusing specifically on goggles for diving and other sports, and it is now available on Amazon and in sporting goods stores across the United States.
Dr. Judy Wu received her PhD in Physics from the University of Houston in 1993. She is now a University Distinguished Professor within the College of Liberal Arts and Sciences - Physics and Astronomy at the University of Kansas where she works on nanoscience and superconductivity. Through collaboration with the electrical engineering and computer science departments at the University of Kansas, Wu developed high efficiency, low-cost solar energy technology by attaching thin films of nanoparticles to highly conductive material, graphene, with the aim of making solar power more feasibly commercialized. Put simply, her work has made solar energy less expensive. She's also developing technology to make computers more high-powered and energy-efficient. Wu is passionate about educating the next generation of innovators and has advised and supervised more than 180 researchers at the postdoc, graduate, undergraduate, and K-12 levels, with about one third of them women or others from under-represented groups.
Senator Cornyn was particularly struck by Nanshu Lu's story and was keen on learning more about her and other international students and scholars doing great things in Texas. Other senators and panelists throughout the hearing also shared their own powerful stories, reaffirming the idea that the vast majority of international students and scholars benefit the United States.
Share your stories about international students and scholars on Connecting Our World.
That's why NAFSA's current focus for our international student campaign—which our Executive Director and CEO Esther D. Brimmer officially announced at the NAFSA conference last week—is collecting as many stories as we can from our members. Compelling stories about how international students and scholars are making a difference in U.S. communities is how we will build a strong support system for international education in Congress so that we can continue making progress.
We are immensely grateful for the NAFSA advocates who answered our call for stories; however, our need for them is far from over. To share your stories about the great things international students and scholars from around the world are doing in your communities, visit www.connectingourworld.org/share. You can see examples of the students we are currently highlighting as part of NAFSA's International Student Campaign at www.nafsa.org/internationalstudents.
Sharing the value of international students around the world and with policymakers has been a focus of NAFSA members since the organization's inception. With your help, we will tell even more great stories about their work, contributions, and dedication to the United States. International students and scholars create jobs, drive innovation, enrich our classrooms, strengthen our national security, and serve as America's best ambassadors and allies.