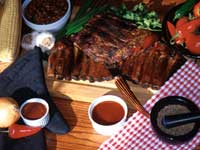 This post is the fourth in a series exploring all that Kansas City, Missouri (the location of NAFSA's 2010 Annual Conference & Expo) has to offer. Thanks to Michael Hernandez of Park University and the 2010 Local Arrangements Team for this contribution. Add your own Kansas City restaurant recommendations and reviews as comments!
Originally I was asked to create a list of 10 restaurants in the conference area priced under $25 for a meal, but I found that most restaurants in Kansas City are under-$25-a-meal places. So, thinking about my love for food and multiple kinds of it, it wasn't hard to come up with a list of restaurants that fit the bill.
As the title suggests, this is NOT a list of the top 10 restaurants in the whole Kansas City area, but rather those located within walking distance of or just a short taxi ride away from the convention center and NAFSA hotels. I am sure many other locations will be suggested on this blog and I welcome the input (and helpful directions for our attendees).
In addition, there are many areas that contain multiple restaurants in their shopping districts: the Power and Light District, Crown Center, Town Center, The Country Club Plaza, Westport, Crossroads and Zona Rosa, and the City Market, to name some of the most popular. Finally, none of my recommendations are considered national brand restaurants, providing you with a local slant.
So, let's begin with a five-way tie for #10 (I just couldn't get my list down to only 10…sorry):
10.  The Vietnam Café – Authentic Vietnamese and Chinese dishes located just east of the City Market.
10. Garozzo's – Authentic Italian cooking with a super owner, featuring chicken spiedini located two blocks from the Vietnam Café, just east of the City Market.
10. Winstead's – For a great original old-fashioned hamburger, chocolate shake, and onion rings, located just east of The Country Club Plaza.
10.  Blue Nile Café – Another great authentic ethnic experience located on the south end of the City Market. Wash your hands and plan to eat generous helpings of lamb, beef, chicken, and vegetables with your fingers.
10.  Mama's 39th Street Diner – Ever had the chance to eat 66 different omelettes on a breakfast menu? Omelettes and other great breakfast cooking, including the greatest deep-fried cinnamon roll I have ever eaten. Located at 39th Street and Southwest Trafficway, just west of Westport.
9.  The Peanut – Fantastic and huge hot buffalo chicken wings, served with plenty of blue cheese dip, and also the best triple-decker BLT, with a big nod to their supreme nachos, which are special because of the salsa that goes on top. Located on 9th Street, west of the Marriott Hotel Downtown.
8.  The Majestic Steakhouse – You can't leave Kansas City without eating one of its famous steaks at one of its famous restaurants. The experience might include a visit to the political boss "Big Tom" Pendergast room upstairs for drinks and cigars, and live jazz every day of the week. Located on Broadway just west of the Marriott Hotel Downtown.
7. Manny's – Enjoy authentic Tex-Mex cooking, with the cheesiest enchiladas, tasty pork burritos, and great bean dip appetizer, and often live Mexican music. Located on the corner of 20th Street and Southwest Boulevard, just south of Bartle Hall.
6. Cupini's – Can we say "I love garlic!?!" Great Italian recipes from the old country. The original is located on Westport road and State Line Road, just west of Old Wesport, and the downtown location is in the Power and Light District.
5. Cascone's Grill – another great Italian location, but recommended for breakfast. Try the Italian steak and eggs for breakfast and Italian bread toast or giant pancakes. Located on the south end of the City Market.
4. Bo Ling's – Most authentic Chinese restaurant in Kansas City, serving great dishes and dim sum on Sundays. Two locations in the convention/hotel district: on Broadway at the Country Club Plaza and the south end of the City Market.
3. Town Topic – open 24/7 (remember it after the Brazilian party when everything else is closed) serving original cheeseburgers, greasy chili, and the infamous "Truck Stop" breakfast skillet. Homemade pies and home-spun service. This place is small, so large groups are not recommended. Two locations one block away from each other: 19th and Broadway and 19th and Baltimore, just south of Bartle Hall.
2. Gates Bar-B-Q – Ribs, Ribs, Ribs! (Oh, and they have great steak fries.) Do not use ketchup on anything, just their three kinds of great sauce. They also have chicken, pork, burnt ends, mutton and sandwiches, and enthusiastic servers.  Located at 35th and Main Street, south of Crown Center.
1. Kabuki –Always fresh and inexpensive Japanese cuisine. It is also the greatest for tempura, so order the combination. End the great experience with some green tea ice cream…yum! Located at the bottom level of the Crown Center shops.
---
Michael Hernandez has lived in Kansas City, Missouri for 26 years, has worked at Park University for the past 13 years and when a great weather weekend happens, likes to go to one of the many outdoor shopping, eating or just hanging out locations around Kansas City.