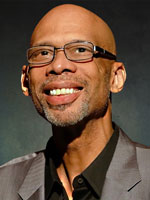 For the last 30 plus years, my favorite memorabilia item has been a basketball, signed by the Los Angeles Lakers, and handed to me by Kareem Abdul-Jabbar. The event was the pregame ceremony at an exhibition game between the Lakers and the Milwaukee Bucks sponsored by Minnesota-based Republic Airlines. Republic CEO Steven Wolf and I (then Lieutenant Governor of Minnesota) were walking to the center court when Steve asked me which center I'd like to receive a ball from. Even then, Kareem Abdul-Jabbar's leadership was in full bloom and I was thrilled to feel it up close.
That two-minute ceremony has been a fond memory of mine ever since, so it is with particular joy that I can play a role in introducing him to NAFSA, and share in what I know will be an inspiring speech to NAFSA 2017 conference attendees on Wednesday, May 31, in Los Angeles.
It is often recognized that leadership demonstrated in one area bodes well for one's ability to use those skills to excel in a completely different area. In the case of Kareem Abdul-Jabbar, that bit of wisdom is recognized in extraordinary ways. His achievements on the basketball court are often remembered by many, but for me, these achievements are only the beginning of a life that has changed the course of history.
A historian by education, a professional basketball player by first choice of career, and a writer and speaker by choice in his post-basketball career, he has used his gifts of leadership, his capacity as a student, and his gift for analysis and insight to help us recognize injustice, understand our own bias, engage in conversation with those we may not agree with, and learn to learn from one another. It's hard to imagine a more important time for his wisdom and insights to be shared with our audience.
In his latest book, Writings on the Wall: Searching for a New Equality Beyond Black and White, Abdul-Jabbar asks us some very tough questions, offers unexpected proposals – for citizens and policymakers alike – and he engages the reader with a sense of urgency that compels us to engage. He makes astute assessments of society and the world in which we live, and offers candid solutions to major problems plaguing America such as racism in sports while speaking candidly about his experiences on and off the court.
As President Obama said as he presented Abdul-Jabbar with the 2016 Presidential Medal of Freedom, "He stood up for his Muslim faith when it wasn't easy and it wasn't popular. He's as comfortable sparring with Bruce Lee as he is advocating on Capitol Hill, or writing with extraordinary eloquence about patriotism. Physically, intellectually, and spiritually, Kareem is one of a kind. An American who illuminates both our basic freedoms and our highest aspirations." I agree wholeheartedly.
Adbul-Jabbar is someone who I and every NAFSA member I have spoken to admire tremendously. He is one of my personal heroes because of his courageousness in the face of great adversity. He has always fought for what he believes is right, even at the risk of great personal loss to himself. Abdul-Jabbar challenges all Americans to strive for a more inclusive and compassionate future, and I am elated for NAFSA conference attendees to have an opportunity to learn from him as we come together in Los Angeles.
---
Marlene M. Johnson is executive director and CEO of NAFSA: Association of International Educators.