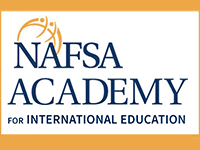 When I first entered international education, I wanted to learn all I could about the field. I knew that NAFSA was the premier association for international educators, so I made it my go-to resource. I constantly searched the NAFSA website and NAFSA's social media feeds to see what tools might help me be successful in my new position. It didn't take very long to realize that I needed to apply for NAFSA's Academy for International Education (the Academy). It was clear this program was designed to cover the full breadth of knowledge necessary to move comprehensive internationalization forward on a college campus.
Now that I've almost completed the program, I can confidently say that the Academy lives up to its reputation as a leading resource for developing international education leaders. For those considering this career-changing experience, I want to share the impact the Academy has had on me, the benefits it can bring to your institution, and the time commitment required.
Spring training is the first big event of the Academy year. My advice for spring training: network, network, network. I found that my experience in the Academy was enriched because I was connecting with people who didn't share my exact job function. Academy trainees learn a lot about other people and their roles at their home institutions. It is also important to network with people outside of your cohort and outside of the workshops. I believe getting to know people both professionally and personally helps make future interactions less mechanical. So, go out to dinner or drinks with folks in the program—I promise that will make your experience at the NAFSA Annual Conference in May seem like a family reunion. The Region 2 cohort that I was a part of was really able to bond both during spring training in Atlanta and at the Annual Conference. Thanks to the encouragement of our coach, Rob Llewellyn from Utah State University, we worked hard but we also had fun. He encouraged us to meet outside of workshops, so one night we all hung out by the pool – and invited non-cohort members – it was a blast! The bond that we have is one that I didn't expect to form and I am very grateful that Rob brought us together like this.
Use networking as an opportunity to push your professional limits, which will benefit both you and your institution. For example, I recently transitioned to a new role at my institution as an associate director with the Thunderbird School of Global Management, a unit of Arizona State University, whose mission is to "educate global leaders who create sustainable prosperity worldwide." The relationships I built through the Academy provided me with the tools and skills I needed to rediscover and define my passion in developing global minded leaders, which helped lead me to this new position. Although I changed units within my university, I am still impacting the institution and forging new partnerships on campus that will impact student success. Each person's journey is different, but I know that the Academy helped me define my passion within international education.
"But I won't have enough time to commit!" Let me just say this: Beyoncé is able to be a mom, an entertainer, an entrepreneur and still have time to look fabulous while doing it all. I think we have time! One of the best pieces of advice I was given in the Academy was to ensure my learning goals could be incorporated into my current position. This allowed me to set aside time during my workday to work on my Academy goals. I was able to intentionally design my Academy goals to fit into projects to better my workplace. Boom! That's what I call being efficient.
I cannot recommend the Academy program enough. Run or walk briskly into your supervisor's office and tell them about this amazing opportunity. This is your time—your time to lead!