The field of international education sits at the intersection of profound and wide-ranging questions. How do nations balance the forces of economic independence and interdependence? What role does immigration play in cultural and economic vitality? What risks does it pose? What is the relationship between collaboration, competition, peace, and conflict? Diversity, unity, creativity, and problem solving?
The past year has brought challenges and opportunities to our field: upheaval in Turkey; a peace accord in Colombia; Brexit; growth of the global middle class and increased demand for higher education; continued humanitarian crises in Syria; reimagined relations between the United States and Cuba; and a new U.S. presidential administration posing challenges on immigration both rhetorically and in policy. Such trends and events make me stop; seek information and evidence; and consider varied perspectives that help me understand the movements today that have a real impact on higher education.
We are living in an ever-changing world. Each change we face is an opportunity to learn and to re-energize ourselves. We should remind ourselves that higher education's comprehensive internationalization is a process rather than an ending point. Consequently, we should be prepared to be in this process for the long run. We need to continue to move forward; develop new skills and invite new perspectives; create success through our daily work; and tell our stories as widely as possible. It is more important than ever that we come together in shared collaboration and solidarity at NAFSA's Annual Conference this year.
The NAFSA Annual Conference & Expo is an unmatched opportunity. It provides a forum for all of us to gain understanding of U.S. domestic policy and higher education shifts. It is also a space that provides access to the entire field globally. Talk to colleagues from China, Peru, Brazil, Japan, Ethiopia, Saudi Arabia, Cuba, the United Kingdom, France, India, and, of course, many other countries and regions. Get to know them and their concerns. What are their student needs? Where is higher education in their countries and institutions headed? What is most important to them? What can we learn from each other? What can we do collaboratively to promote people-to-people understanding, social justice, and world peace?
Share what your institution is doing to be a welcoming campus, discuss how you are supporting students who want to come to the United States and travel abroad. Show how determined you and your institution are in the commitment to international education, and to sharing the values of international education with both your government representatives and your local community.
These kinds of conversations at the NAFSA 2017 Annual Conference will help you grow as an individual in your knowledge and perspective and will help you build the competence and confidence as an international education professional—with tangible benefits to you and your institution. Use your time at the conference to catch up on the latest trends and knowledge, make the most out of your networks, immerse yourself in this worldly gathering of international educators, and learn from rich and diverse conference sessions, poster fairs, special events, and open meetings.
I look forward to seeing you in Los Angeles as we do what international education does best—expanding our sense of community and strengthening connections between people.
---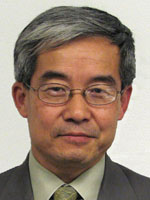 Yenbo Wu, PhD, is associate vice president for international education at San Francisco State University, and serves as the vice president of scholarship and institutional strategy on the NAFSA Board of Directors.