President Barack Obama recently announced that the United States and China will increase the validity of student and exchange visitor visas from 1 to 5 years, and the validity of short-term tourist and business visas from 1 to 10 years. This is really great news and I'm glad to share why this agreement is important from a student perspective.
To begin with, it saves time, money, and energy for Chinese students studying in the United States. Previously, Chinese students applying for an F-1 visa were only granted an entry visa that was valid for a year. If our visa expired and if we planned to travel outside the United States (perhaps for an internship or study opportunity, or to visit family back home for the holidays), we needed to renew our visa annually, outside of the United States, either in China, Mexico, or Canada, before returning to continue our studies.
Because it's difficult to figure out the visa renewal process in Mexico without having a strong command of Spanish, and also this year, Canada temporarily suspended processing of all non-Canadian visa applications, we have to go back to China and start the visa application all over again, including paying the $160 visa application fee and waiting hours outside of a U.S. consulate for an interview. Depending on the time of year, it can take up to a month to get your visa renewed. Therefore, most students choose to get their visas renewed during summer vacation. However, it costs at least $1,000 to get a round-trip air ticket to China, and the summer is a precious period of time to gain additional education and professional experience in the United States or somewhere else in the world.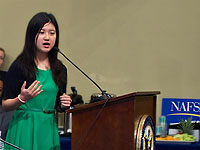 Due to the time and cost of traveling back to China and waiting a month to get a visa renewed, a lot of students give up the opportunity to travel to other countries and therefore lose out on valuable opportunities to get the additional international skills they need to succeed.
With this new extended visa validity policy, Chinese students are able to get entry visas that are valid for up to 5 years, so they don't have to go back and forth to China every year to get their visa renewed when needing to travel outside the United States. This is especially important for undergraduate and Ph.D. students because their academic programs are usually four years or more.
Also, this new policy makes lives of students' parents easier. Most Chinese families only have one child because of the "one-child policy," which makes it natural for Chinese parents to miss their children even more when they are in the United States. I remember talking with an old couple when I was waiting in line for my visa interview at the consulate. They are in their sixties and their daughter is working in the United States. They said they really miss her and would love to visit her more, but it costs too much to apply for the entry visa every year. That couple is not alone. With the new policy that grants tourist visas for up to ten years, more parents like them will get the opportunity to reunite with their children in the United States.
Also, I think this is a sign that the United States is opening the door for more opportunities to Chinese students. This new visa policy, along with the 17-month STEM OPT extension policy, shows that the United States is opening the door of more opportunities to Chinese students, and I can hope that in the near future, more talented international students will be able to stay in the United States after graduation. International students, both STEM and non-STEM students, receive benefits from studying here, and we will be able to experience more and learn more with more open policies. During my time here, I have served as the interpreter for Anhui Provincial Goodwill Mission's Visit from China to Maryland. I have spoken at a Capitol Hill briefing. I have played Er-hu, a traditional Chinese instrument in front of Georgetown students. I truly appreciate all these experiences and I believe this policy change will allow more Chinese students to have the same opportunities as I have had here at Georgetown University.
Read more about this change in visa policy on NAFSA's blog and website.
---
Qianlei Li is currently a second-year graduate student at the McCourt School of Public Policy at Georgetown University in Washington, DC. Originally from Shanghai, China, Li completed her undergraduate education with a major in finance and a minor in English literature. Having experience studying in China, Australia, and United States, she has great interest in international education, culture, and languages.