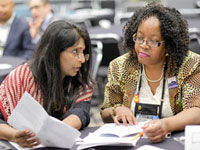 In just a few weeks, we will kick off the NAFSA 2017 Annual Conference & Expo in Los Angeles. This year's theme, "Expanding Community, Strengthening Connections," seems to be the perfect call to action for the challenges our field is facing during these extraordinary times. Our role as advocates for international education (IE) and as facilitators of intercultural understanding and global collaboration has become more important than ever.
NAFSA Workshops and Programs: Tools Critical to IE Professionals' Success
Now is the time for us as NAFSA leaders, members, and practitioners in the field of IE to ensure the world understands that our institutions of higher education continue to welcome international students, scholars, visitors, and workers.
To that end, solidifying our awareness, knowledge, and skills in all aspects of IE has never been more important. Adding new or honing existing skills; gaining insights into emerging trends in this fast-paced environment; and exchanging views, best practices, and innovative approaches with colleagues and experts in the field will help us send the strong message that institutions of higher education are – and will remain – the place to obtain the knowledge and credentials required to succeed in the global community.
As a NAFSA member leader and in my role as NAFSA Trainer Corps chair and professional learning services liaison to NAFSA's Coordinating Council, I recognize that continuous professional development is critical to individual and institutional success.
I have personally experienced the value of preconference workshops and signature programs (including the Management Development Program), and the direction they have given me. I have stayed abreast with current trends and issues related to the field of international education by attending NAFSA professional development programs and workshops. I felt supported by the trainers as well as the other IE professionals who attended these professional development opportunities and was able to create a network to help me keep up with rapidly changing developments in a highly dynamic environment, to respond to challenges at hand, and to prepare other IE professionals for future challenges. I have walked away feeling equipped with practical approaches and solutions, and recharged by the great discussions led by experts in the field.
The Time to Take Action is Now
Let's make it our joint mission to reinforce national and international policies and practices that ensure a more interconnected, peaceful world today and for generations to come. This is not the time to take a wait-and-see attitude. Invest in professional development now to enable yourself, your staff, and your institution to advocate for the benefits of global understanding through international education!
Take full advantage of the opportunities NAFSA 2017 offers to members and nonmembers:
Learn about NAFSA's advocacy efforts and how they benefit your institution and our field;
Deepen your connections with colleagues and experts in the field;
Engage in an open exchange with professionals from around the world who work in international education;
Enhance your skills and increase your knowledge through participation in preconference workshops, colloquia, and other professional learning opportunities; and
Refresh your connections and network with scholars, practitioners, and leaders in international education to discuss shared concerns and exchange best practice approaches to today's challenges.
We truly live in extraordinary times; times that require unprecedented levels of knowledge, skill, and engagement to ensure that international education will continue to thrive through expanded community and strengthened connections!
I look forward to seeing all of you at the largest gathering of IE professionals in the world.
---

Chanda Chen is director of international specialized programs at the University of Washington, chair of NAFSA's Trainer Corps, and the professional learning services liaison for NAFSA's Coordinating Council.