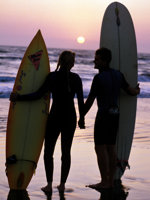 From cities to wilderness, Southern California has tons for NAFSA 2017 attendees to explore. Check out these fun day trips that will leave you feeling like Dorothy in the Wizard of Oz, "I've a feeling we're not in [Los Angeles] anymore…"
Heading Towards the Border
Temecula
Temecula, it's spacious, warm, and dry—perfect conditions for wine country! I used to consider a weekend in Napa Valley as the ultimate wine escape. However, I never seem to make it up north because Temecula is only two hours away, and—more importantly—wine flows aplenty! Most wineries are located on Rancho California Road. Wine aficionados could spend all day here, but keep in mind that wineries close early in the evening. Tours and car services are available, which you may want to consider since the wineries are driving distance apart. For the best sourdough bread with brie cheese, visit Maurice Car'rie Vineyard. You'll thank me later! All winery backdrops are spectacular in their own way, which is why it is a popular wedding destination, so don't forget your camera. Thrill seekers, Temecula is also a playground for hot air ballooning and skydiving.
San Diego
I hesitated to list San Diego as a day trip, because traffic can turn a two-hour drive to the border city into a four-hour, bumper-to-bumper experience on the 5 freeway. The moral of the story is to plan ahead. Avoid driving during rush hour or take the Pacific Sunliner down to San Diego. The train will leave you near the downtown area, which means that you can explore the restaurants, shops, and bars in the Gaslamp Quarter. San Diego has its fill of museums, gardens, and green spaces, many of them concentrated in Balboa Park. Other attractions include the historic beachfront hotel, El Coronado, and the San Diego Mission. Those with a car may want to venture to other areas, such as La Jolla Beach for kayaking, surfing, and swimming, or Old Town San Diego to learn more about the city's history.
Fun in the Sun
In a previous post, I listed certain beaches as local attractions. However, visiting local beaches can turn into a day trip, especially when you visit more than one in a single day. Some beaches are good for swimming while others are more suited for picnicking, cruising the boardwalk, or having a drink at a rooftop bar. I have made this distinction based on the cleanliness of the water. Here is my take on some beaches. Don't forget the sunscreen!
Beaches that are good for swimming:
Matador State Beach
Zuma Beach
Dockweiler Beach (also good for bonfires)
Redondo Beach
Laguna Beach
I recommend these beaches for the ambience:
Venice Beach (though I would avoid wandering here after sunset)
Santa Monica Beach
San Pedro Beach
Long Beach
In addition to the list, I would like to highlight a few coastal cities.
Let's begin with the LBC!
Long Beach City (LBC)
Long Beach is a coastal city in Los Angeles County, but the vibe feels different somehow. The streets are lined with palm trees and some neighborhoods are walking distance from the oceanfront. One area that comes to mind is Belmont Shores, where I've grabbed a drink on East 2nd Street. Along the waterfront, there is a bike path that extends to Seal Beach, passing by restaurants and shops near the sand. Closer to downtown Long Beach, you can find popular attractions like the Queen Mary, the Aquarium of the Pacific, and the Museum of Latin American Art.
Huntington Beach
Huntington Beach earned the nickname "Surf City" due to its role in building the popularity of surf in California. In 1914, George Freeth from Hawaii gave a surfing demonstration during the open ceremony of the Huntington Pier—the rest is history. Today, surfers still travel to Huntington Beach to ride the iconic waves. A trip to Surf City may be the occasion to take a surfing lesson, but leave the big waves to the professionals. Similar to other coastal cities, out-of-towners can choose from a variety of beachfront or ocean activities. There is a lively street fair and farmers market every Tuesday night, free entertainment included.
San Pedro and Catalina Island San Pedro is home to the biggest port in Los Angeles! Personally, I can watch cranes transport shipping containers across the port for hours, but I understand this may not be your idea of a good time. Luckily, there are daily ferries making round trips to a getaway with a Mediterranean feel, Catalina Island. For less than $40 one way, visitors can get to the island in an hour aboard a high-speed ferry. (By the way, the ferry ride is free on your birthday!) Catalina Island is a great destination for pampering yourself at a spa, swimming in the ocean, hiking on trails with an ocean view, or breaking a sweat during water sports. Ferries also depart from Long Beach, Dana Point, and Newport Beach.
Mountains and Desert
Big Bear
If mountains are more of your thing, you will notice that we have plenty in the area. In only two-and-a-half hours you can find yourself in Big Bear Lake. This mountainous escape is fun to visit all year, and I find that the scenic drive to the elevation of 6,750 feet (2,060 meters) is part of the appeal. Individuals and families will enjoy strolling in the woods, taking in the fresh air, and photographing the scenery. Summer activities include hiking, fishing, kayaking, ziplining, and boating. The drought impacted the lake, unfortunately, but hopefully the recent showers have filled up the dry spots! In or near Big Bear Lake Village, visitors can find restaurants, shops, lodging options, and entertainment, such as bowling. Rent a cabin or reserve camping space if you want to stay the night.
Joshua Tree
Joshua Tree is one of the closest national parks to Los Angeles, approximately two-and-a-half hours away. The Mojave and Colorado deserts collide to create this unique ecosystem. As the name implies, the Joshua tree is a special feature of the landscape; the tree is prickly, cartoon-like, and a member of the Agave family. Visitors are attracted to this region by the landscape, stargazing, hiking, backpacking, and camping. The only drawback: temperatures peak at 100 degrees Fahrenheit in May and June. The good news: the mystical Milky Way constellation adorns the sparkling dome during the summer months, especially on a moonless night. This should tempt you to stay the night.
Cruising On the 101
Santa Barbara
The drive to Santa Barbara is spectacular once the 101 freeway joins the coast. This is when I put on my Jack Johnson playlist and instantly feel great about life. (Side note: did you know that Jack Johnson attended the University of California-Santa Barbara (UCSB), where he met his wife and inspiration for many of his songs?) Downtown Santa Barbara is a charming area, largely due to State Street, the pedestrian-friendly road that leads down to the wharf. Once at the wharf, rent a four-wheel surrey bike to cover more ground on the paths beside the ocean. Up and down the coast, there are less crowded beaches for admiring the thick layers of sandstone that make up the jagged and rocky coastline. Other family-friendly attractions in Santa Barbara include visiting the Old Mission or the Botanic Garden. If you venture further up north on the 101, you'll reach Goleta where UCSB is located.
En route to Santa Barbara from Los Angeles, you will pass through Ventura County. Hoping to catch some Memorial Day sales while in town? Check out the outlets in Camarillo. If you want to skip driving, the Pacific Sunliner train passes through Santa Barbara.
Have fun exploring these places somewhere over the rainbow of city lights and colorful sunsets!
---
Kelly Zuniga is J-1 exchange visitor counselor at the University of California-Los Angeles and the Local Arrangements Team (LAT) communications chair for the NAFSA 2017 Annual Conference & Expo.