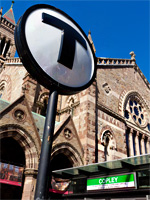 Now that I have given you information about the best places to visit, eat, and explore in Boston, you will undoubtedly want to know some details about how to get from one place to another.
Planes
Many of you will be flying into Boston and will need to get to the Boston Convention and Exposition Center (BCEC) or your hotel after you arrive.  If you are looking for ease and not concerned about cost, taking a taxi is the most common way to go. Uber, the online reservation, unlicensed taxi service, is also very popular, but be aware of the airport and toll surcharge when using this to travel from Logan International Airport.  If you are looking for a cheaper option, there is a free shuttle from every terminal directly to the "T," the city's subway system.. To go directly to the BCEC for $2.20, take the Silver Line bus (SL 1 or SL 2) to the World Trade Center stop and take the elevator to level two. If you are staying in the Back Bay, there is a shuttle bus offered through MassPort that will take you directly to Copley Center or the Hynes Convention Center. It leaves every 20 minutes, costs $5, and reservations are not needed.
Trains
The oldest subway system in the United States is located right here in Boston–the "T." Unless we are experiencing freakish snowfalls, it is actually quite reliable and very easy to use. The color-coded lines designate a train's direction using end-of-the-line station names and are noted as either "inbound" or "outbound" relative to the downtown area.  Be aware that the green line splits into three separate lines as you leave the downtown area.  Train passes, called "Charlie cards" in reference to the song Charlie and the MTA, can be purchased at machines located at most underground stations. A day-pass option will cost you $12. The train runs from approximately 5:30 a.m. to 1:30 a.m. For those of you looking to travel outside of the city, the commuter rail system connects to the "T" primarily at the North and South Stations. The "T" stop closest to the BCEC is on the Red Line at South Station, where you can then take the Silver Line bus to the World Trade Center stop. Take the elevator up to level two and go left as you exit the elevator. BCEC will be right in front of you.
Automobiles
Driving in Boston can be very challenging if you are not familiar with the area. Streets were established from former cow paths, and as a result, there is very little logic to the layout. Narrow, one-way streets are common and parking can be a nightmare, not to mention traffic! For this reason, Uber and taxis abound.  If you are staying in the Prudential and Back Bay area and need to park, the Prudential Center garage rarely fills up. You can cut the price by validating your parking ticket when you make a purchase or enjoy a meal within the Prudential Center.
Biking
I know this was not in the title, but for those of you who like to pedal, I wanted to mention the bike rental option Boston offers. There are several bike stations set up around the city where you can take or leave a bike, depending on your needs. Join by signing up on thehubway.com.  Bike paths are located along the Charles River on both sides, and bike lanes have been designated on many of the roads in the city.
And finally, walking! Boston is nicknamed "The Walkable City" for a good reason.  You will find that you can easily walk between most "T" stations in the same amount of time it would take you to figure out where you want to go, wait for a train, and then ride the train. So if you are not planning to go far, I encourage you to put on your walking shoes and enjoy the sights you might miss in a car or underground!
Please note, by special arrangement, NAFSA will also have trolley shuttle buses available to hotels and restaurants throughout the conference.  Be sure to check in at the local hospitality desk for more information on this.
---

Clare O'Brien is the Local Arrangements Team (LAT) communications chair for the NAFSA 2015 Annual Conference & Expo. Originally from Buffalo, New York, Clare has lived in the Boston area for more than 20 years. She spent close to 10 years overseeing international student advising and study abroad at Fitchburg State University in Fitchburg, Massachusetts, and worked as an international educator in Wisconsin, New York, and Massachusetts while she earned both her master's and doctorate degrees. Clare currently works part-time as an international education consultant where she has assisted several local universities and third-party providers. She is also coediting an anthology of short stories titled From Bangkok to Boston: Inspiring Stories of Travel and Adventure from International Educators.