I am delighted that NAFSA will feature Nobel Peace Prize winner Tawakkol Karman as the Closing Plenary speaker at the 2015 Annual Conference and Expo in Boston, Massachusetts, this May. Like many of us, I was inspired in 2011 when I first learned of Karman's role in Yemen's revolution and her longer history in nonviolent struggle for the safety of women and for women's rights to full participation in peacebuilding work.

In 2012, I became more personally connected to the struggle for human rights in the Middle East and North Africa. That year, Saint Mary's College began hosting an annual U.S. State Department-funded Global Women's Leadership Institute that included young women leaders from Arab countries in transition like Libya, Egypt, Tunisia, Iraq, and Jordan.
These spirited and determined women taught my students, my colleagues, and me much about their frustrations, hopes, and plans, as we in-turn have also shared women's progress and challenges in the U.S. with them. As part of the Institute, the participants create action plans to implement when they return home. For example, the Tunisian delegation in 2013 established a successful women's mentoring program to counter the threat to women's freedoms by extremist groups. Recently, the Jordanian delegation documented the serious problem of sexual harassment on public transportation, and created a viable business plan for a network of female cab drivers as one solution.
In addition, our time spent studying social justice and strategies for activism continues to bear fruit long afterwards in many small ways, as evidenced in their very active Facebook groups, with postings like Sara's from Libya: "Today I was elected out of 11 male nominees with the highest votes to become the first female board member at a youth organization where I've been working for the past 2 years!"
This past summer, the increasing violence in their part of the world often intruded on participants attending our institute. One participant learned of her aunt's house being destroyed; another participant received a photo of her cousin who was shot; and, our Libyan participants experienced serious difficulty getting home at the end due to growing unrest at home. This backdrop underlined the great urgency for these young women leaders to apply their tremendous potential to creative peacebuilding to benefit all people, as other women successfully have done before them in conflicts in Northern Ireland, Liberia, Israel/Palestine, Sri Lanka, and Yemen.
Many share this global outlook. As Kathleen Kuehnast, director of the Center for Gender & Peacebuilding at the United States Institute of Peace, writes, "United Nations Security Council Resolution 1325 on Women, Peace,and Security (adopted in October 2000) acknowledges the disproportionate impact of violent conflict on women and recognizes the critical role women should and can play in the processes of peacebuilding and conflict prevention, including peace talks, conflict mediation, and all aspects of post-conflict reconstruction. Moving forward globally in an effective and efficient manner, women will need to play a pivotal role in the security and peacebuilding in this new century."1
Women make up more than half of the world's population, and considerably more than half of U.S. college students. As international educators, all of us have much to learn from Tawakkol Karman's efforts to raise awareness for women's rights. Because of my own work with the inspiring young Arab women following in her footsteps, I am eager to hear in-depth about her mission and impressive achievements as a catalyst for change. As Karman herself said in her Nobel Lecture, "The solution to women's issues can only be achieved in a free and democratic society in which human energy is liberated, the energy of both men and women together."2
Learn more about Tawakkol Karman.
---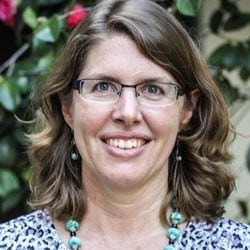 Elaine Meyer-Lee, EdD, serves as a member at large on the NAFSA Board of Directors and as director of the Center for Women's Intercultural Leadership at St. Mary's College in Notre Dame, Indiana. She also serves on advisory boards for the American Council on Education's Internationalization Collaborative and the U.S. State Department's Critical Language Scholarship Program, and has authored several international education texts.
1 Kuehnast, Kathleen, "Why Women's Involvement in Peacebuilding Matters," US Institute of Peace website.
2 Karman, Tawakkol, Nobel Lecture, Oslo, 12/10/2011.