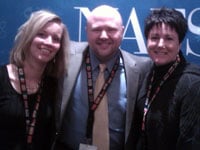 With nearly 375 attendees, Region IV's conference in Cedar Rapids, Iowa, November 12-15, bested its previous attendance record of 250 by nearly 100 participants. Cedar Rapids' central location in the Midwest region drew not only a large drive-in NAFSA crowd, but also nearly 20 percent nonmembers and a large numbers of students from international education programs at the University of Iowa, Iowa State University, and the University of Minnesota.
Region IV Chair John Wilkerson credits both location and the program with this increase in numbers. "We had a large number of session proposals, which allowed us to construct a truly substantive program. In addition, we added poster sessions, which allowed more people to present at our conference."
The addition of poster sessions wasn't the only innovation this year at Region IV. Renaming the exhibit hall the Institutional Partner Fair emphasized the important complementary role of service providers to international education. Region IV also added four new regional awards: Internationalization Achievement, Outstanding New Professional, Most Innovative International Initiative, and Outstanding Student.
Wilkerson noted that "the sign of a good conference is that it looks easy—even when it isn't" as he thanked Conference Planner Kimberly Connelly of Park University. Kudos also went to the local arrangements team, spearheaded by Dawn Wood of Kirkwood Community College, which is among the top 10 community colleges in the country in terms of international activity. Kirkwood's hospitality arts program, whose vision is "to prepare the finest professionals to lead the global hospitality industry," lived up to its motto with a gourmet reception at its new ultramodern Hotel at Kirkwood Center.
Off to St. Louis, Missouri, for the 2012 Region IV conference!