In the final installment of our series featuring our 2011 plenary speakers, Kristin Hayden discusses the power of transformational experiences to open doors for young people to explore their fullest potential.
When I speak about transformational experiences, I mean those life experiences that shift the trajectory of our lives. For me, studying abroad in apartheid South Africa at the age of 15 was one of those transformational experiences that sparked this journey toward the creation of OneWorld Now! Of course, the other influences were my mother, an educator, and my father, a civil rights manager, that helped shaped my world and fuel my passion for social justice and international education. I was lucky that both of my parents had studied abroad in college and therefore encouraged me to do the same in high school. The youth with whom I work today rarely have that kind of support.
The next transformational experience for me was studying abroad in college, during the Cold War, in Moscow, Russia. Like my experience in South Africa, once again I was studying in another society on the verge of major historical transformation. I still remember that my history teachers said they didn't think they would see the dismantling of apartheid or the Soviet Union in their lifetimes. I was privileged enough to witness those changes and it has always given me the keen awareness that big change is always possible! I believe this sense of possibility inspires every social entrepreneur!
I spent my 20s living and working abroad and gained some great experience working in the for-profit and nonprofit sectors. (Ok, that's the last time you'll see me mention "nonprofit." I think the name contributes to our scarcity mentality and furthermore, who wants to be a "non" anything? For the record, I prefer "social venture!") After nearly a decade living in Moscow, Paris, London, and Tbilisi, I returned to the United States to plot my next move. Then the tragic events of 9/11 happened and I watched how Americans reacted with so much fear and misunderstanding toward all things Arab and Muslim. It reminded me of my childhood, during the Cold War, and how we thought of the "Evil Empire" and our fear of all things "communist."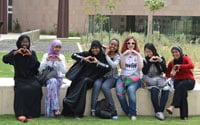 I was also really frustrated with our U.S. public education system, which I felt was perpetuating our isolationist views and not preparing our youth for this interconnected world. And even though I believed that study abroad was such a life-experiencing experience for young people, I was disturbed that almost all of the Americans who were lucky enough to go abroad were European-American and upper-middle class.
My vision finally crystallized at age 30, when I decided to stop complaining and be part of the solution. In 2002, I committed to put my vision into action with the founding of "OneWorld Now!" The vision is to provide transformational international educational opportunities to all youth. The model is simple: an integrated approach to language, leadership, and study abroad. The critical languages we choose to offer are Arabic and Chinese, two strategically important languages not typically offered in our public schools. Our focus is on underserved high school youth (mostly low-income and minority), who have historically had the least access to international educational opportunities. OneWorld Now! students commit to a two-year program - three days a week after school - of language, leadership, and study abroad. We provide scholarships abroad to the Middle East and China and we are committed to making study abroad affordable to our young people. We work with nearly all of the public high schools in Seattle, Washington, and this fall, have expanded our innovative program to Oahu, Hawaii, where we are the first Arabic language program for K-12 students on the Hawaiian Islands!
Our youth are inspiring and these opportunities are most certainly shifting the trajectory of their lives. Additionally, OWN students are breaking stereotypes of "what it means to be American" abroad and also pleasantly surprising people with their Arabic and Chinese language skills. Most importantly, through our leadership training, our youth see a new possibility for themselves and their lives… as they begin to OWN their role as the next generation of global leaders! I look forward to speaking with you at NAFSA and sharing more of their inspiring stories.
---
Kristin Hayden is founder and executive director of OneWorld Now! She will be speaking on our plenary panel on international social entrepreneurship on Wednesday, June 1, at 10:45 a.m. in the ballroom at the Vancouver Convention Centre West.