This week marks the launch of the 2012 Student Diplomat Video Contest. Find more details at www.connectingourworld.org/studentdiplomat.
Studying and traveling abroad can be a life-changing experience, just ask anyone who has been on a program overseas! My study abroad in the summer of 2011 took me to Germany to study adaptations to climate change through progressive city planning. My studies were anchored in Dresden, a modern model of exemplary city planning since its recovery from complete destruction during World War II.
While in Germany, I learned a great deal about the local culture, as well as about German city planning. The people I met while abroad were incredibly hospitable and helped me to become accustomed to my new environment. I believe that interacting with locals is the best way to gain a proper understanding of cultural differences while fostering lifelong friendships at the same time. The people I met during my program were without a doubt the best part of my experience, and they taught me amazing things about the city of Dresden.
When my program in Dresden was finished, I decided to travel to other cities throughout Western Europe in order to acquire a larger perspective on European city planning. I found that every city I visited was unlike any other, and each one had its own unique feel and culture. It was these amazing differences between cities that made me want to share my story for others to hear.
When I returned to the United States, I stumbled upon the Student Diplomat Video Contest by accident and decided that it was the perfect outlet to share my story with others my age. Since I submitted my video, I have received such amazing responses from people all over the country. Looking back to when I first submitted my video, the Student Diplomat Video Contest has been a major factor in shaping the past few months of my life. After I was named the 2011 Student Diplomat, I decided to take another trip to Europe, upon my college graduation, to focus on cities in Eastern Europe. These cities were stunningly beautiful and had an incredible mix of cultures than I wasn't quite used to. I immersed myself in Eastern Europe for just over a month and had a number of unbelievable adventures along the way.
Upon my return to the United States I needed to find a job, and I was presented with an amazing opportunity to do video production for a start-up company in Detroit, Michigan. Detroit is  a fascinating city today from a city planning perspective, and I get to work with something that I am passionate about. The Student Diplomat contest was a major factor in getting my video work noticed, and I am so happy that I got the chance to enter last year. I wish the best of luck to the 2012 applicants; I hope that your experiences will be as positive as mine!
---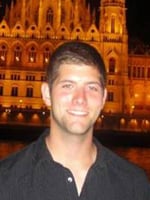 Benjamin Hershey won the 2011 Student Diplomat Video Contest, which included a $1,000 travel voucher courtesy of STA Travel, a NAFSA Global Partner, by telling his story of learning and personal growth during a study abroad experience in Dresden, Germany, where he studied climate change and city planning. He graduated from Ohio State University in June 2012 with a degree in city planning.