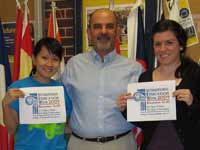 As most of you know, International Education Week began yesterday. This is a fantastic opportunity to promote awareness of issues surrounding international education. I wanted to share with you what my campus is doing.
At The University of Central Oklahoma, our International Student Council has a booth at our food court all this week with a laptop to encourage fellow students, faculty and staff to sign up online with NAFSA's Take Action Center so that more people can stay informed on the issues and join us in taking action by sending messages to Congress and the White House to support opportunities for living and learning across borders.
Signing up is easy and takes only a few minutes. We're giving a free bookmark to everyone who signs up. The IEW bookmarks can be downloaded for free from the promotional materials on the State Department's IEW Web site.
The Web site to sign up for NAFSA's Advocacy Centered Team (ACT) is www.nafsa.org/act.
I encourage all of you to do something similar on your campus. Please take advantage of this great opportunity to advance international education in Oklahoma and the nation! The Simon Study Abroad Act still needs our voice of support and next year should bring Comprehensive Immigration Reform to the forefront. We all need to do our part!
If you're celebrating IEW on your campus, be sure and let NAFSA know – you can share what you are doing on NAFSA's Facebook event page.
---
Glenn Freeman is an international student adviser at The University of Central Oklahoma Office of International Services. He has held this position at UCO for over 10 years, during which time he has traveled to more than 45 countries recruiting students for UCO. He is an active member of NAFSA, and has served as the Oklahoma State Representative for the last two years. He is also Deputy WHIP for NAFSA Advocacy in Oklahoma and was recently elected to the NAFSA Region III chair stream.