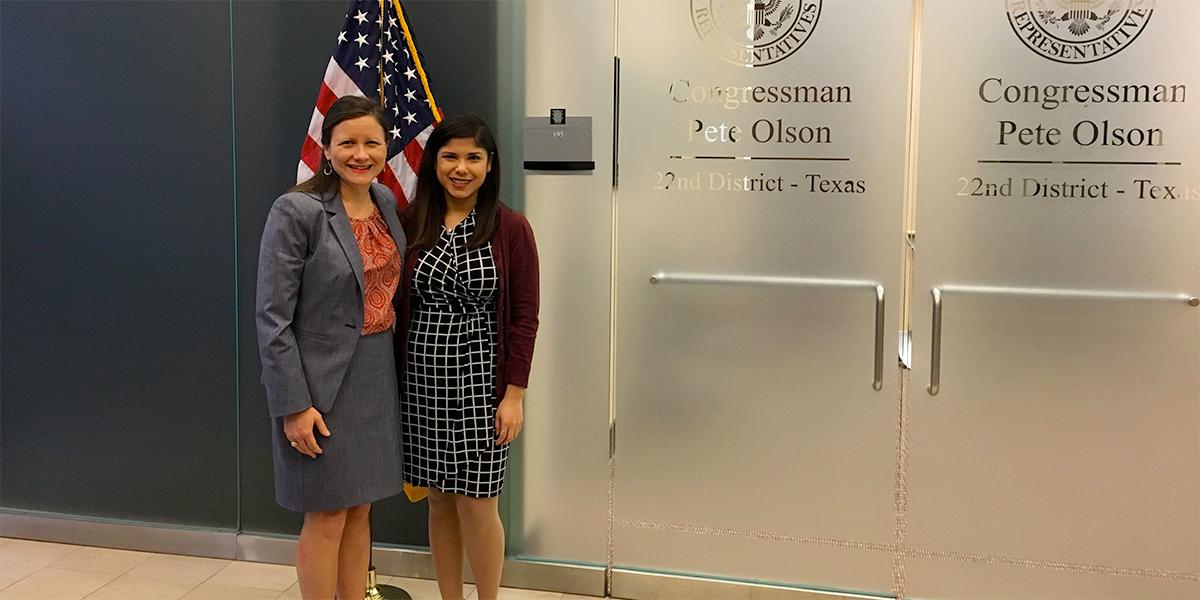 What is advocacy? Advocacy is action by one or many individuals to support and engage others for a common cause. Our action in advocacy began with NAFSA's Advocacy Day in 2015 where NAFSA Region III provided the opportunity for us to go to Capitol Hill to educate our members of Congress on international education and immigration initiatives. Our journey began with this single step, and we were ready to take it to the next level.
Although we had both been involved with the annual national Advocacy Day in Washington, D.C., we wanted to bring the benefits home to our own community and continue the momentum throughout the year. We established a local team of international educators and collaborated with the NAFSA Public Policy team. Our first step was to coordinate the message we wanted to share and collect supporting materials. We then began contacting local congressional offices and district directors, with varying degrees of success. We overcame a few setbacks, but finally settled on a date and were able to schedule meetings with the offices of two senators and a congressman in their Texas offices.
From our experiences with both our local and DC congressional office visits, we learned that you could be the first individual from your field to educate your members of congress on international education. In one of our local meetings, we were told that we were two of the first higher education individuals to come speak on immigration in regard to students, scholars, and employees. It was at that moment we realized that not all congressional offices are equal, so what one local office may hear from its constituents is not exactly what the DC office receives. We also learned that compared to the fast-paced meetings on Capitol Hill, local advocacy was more engaging, and staffers gave us plenty of time to voice our concerns. After this eye-opening opportunity, we knew that we must continue to maintain our relationships with the congressional offices and their staff. Since then, we have stayed engaged with both the local and DC congressional offices simultaneously in regard to news and policy.
As a result of our efforts, Representatives Pete Olson (R-TX-22) and Sylvia Garcia (D-TX-29) recently led the Houston congressional delegation in writing a bipartisan letter to U.S. Citizenship and Immigration Services (USCIS) concerning the backlog and delays that the Houston area is experiencing with immigrant petitions. Ten members of Congress from the Houston region signed this letter and thus began important documented communication concerning USCIS processing delays. We took this opportunity to ensure that Congressman Pete Olson's office knew that we hope that this would also one day include nonimmigrant petitions as well.
There are many voices when it comes to advocating for the causes in which we believe. Each one of those voices is unique with a different story to tell. Even when you think you have said all you could, someone is always listening. We are the ambassadors championing for international education initiatives and immigration reform. Our senators and representatives need individuals like us to keep Washington and our local offices informed of the implications of policy in our communities. We must continue to follow up and follow through. Make use of the resources NAFSA provides like Connecting Our World and the Local Advocacy Toolkits to get started and to keep going. Stay active, stay engaged, and be ready to educate.