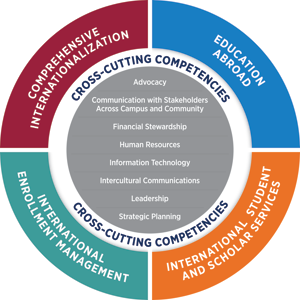 As one whose international education (IE) career is usually focused on helping rising professionals plan their future professional development, I recently had the opportunity to consider the opposite side of the coin. I got to see firsthand how NAFSA's International Education Professional Competencies can be used as a guide for hiring new colleagues. Using the Competencies for this purpose gave me a chance to consider the breadth of the field of international education from my own vantage point, as well as what it might look like for my team and my potential new colleague.
In 2015, NAFSA published its Competencies as a tool to help IE professionals plan their career development, and to assist supervisors and hiring managers as they evaluate their staff and assess their staffing needs. According to NAFSA, "the tool is organized into four key professional practice areas—Comprehensive Internationalization, Education Abroad, International Education Enrollment, and International Student and Scholar Services—as well as cross-cutting competencies . . . the shared skills and knowledge needed across all international education domains." More specifically, the cross-cutting competencies include: advocacy, communication with stakeholders across campus and community, financial stewardship, human resources, information technology, intercultural communications, leadership, and strategic planning. The tool was also developed to be applied at various levels of planning and practice, including the individual, team, institution, and field levels.
The Competencies tool was developed by NAFSA member-leaders and staff, and tested extensively across the Knowledge Communities. It can be applied at various levels of planning and practice, including the individual, team, institution, and field levels. The Competencies can be applied at the individual level as an assessment tool to measure one's own skills or, as in my current situation, to assess the breadth and depth of a team's skills in order to identify gaps and future needs. Managers can then plan more effectively for their staff's professional development, as well as for hiring searches. The Competencies can also be applied at the institutional level to assess and plan for direct service delivery, the management of programs, and strategy and policy planning. Lastly, the Competencies can be applied at all levels to assess and strengthen our overall field, leading to its continued professionalization as a discipline of practice and study in the Academy.
During my presentation in the Career Center at NAFSA 2016, I will explore how the Competencies can be used as a tool to assess current team skills, strengths, weaknesses, and gaps in order to assist with the professional development of current staff members and to plan for future hiring searches. In order to present the most comprehensive information possible, I am conducting a brief survey to gather data from IE supervisors and hiring managers who have used the Competencies tool in their own work. By engaging with as many people as possible about how they have used the tool within their own offices, we can learn from each other and better understand the various ways we can utilize the Competencies tool. You are invited to participate in the survey, which can be accessed here. It will take no more than five minutes to complete.
---
Interested in learning more? Join me on Wednesday, June 1, from 10:00 a.m.–10:45 a.m., for my presentation, "Using NAFSA's International Education Professional Competencies for Hiring and Team Development," in the Career Center located in Four Seasons Ballroom 4. Learn the results of the first survey and participate in the discussion. Survey results will be shared in a future blog entry as well.