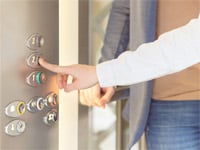 At the NAFSA 2015 Annual Conference in Boston, MA, I will serve as a résumé reviewer in the Expo Hall. Below, I share my insights on the role of the elevator speech in networking, tips that were adapted from an article I published on LinkedIn.
Has a stranger ever approached you at a social event and asked you, "What do you do?," and you stuttered and stammered and looked the fool that you are definitely not? Yeah, I raised my hand too.
You need to create a 60-second speech that tells strangers who you are—a verbal statement otherwise known as the "elevator speech."
Why is it called an elevator speech? Imagine that you are at the site of your dream job and you are going to a meeting on the fourth floor. You have decided to take the elevator and just as the doors are closing, the director of the international center runs in and hits the third floor button. This is your big chance to network with her, and you have two floors—or 60 seconds—to sell yourself, which you hope will lead to an informational interview, which will lead to an entry level job in her office, which then will lead to a position as associate director... and so on... and so on.
This could happen to you—but only if you have a great elevator speech. To build your speech, use this approach:
1. Grab a piece of paper and respond to the following questions:
Who am I?
What have I done that relates to my career interests?
What makes me different from everyone else out there?
Where would I like to work and what do I hope to do in that job in the future?
2. Take those notes and build a paragraph.
The paragraph could look like this:
I am a master's candidate in the College Student Development and Counseling Program at Northeastern University. I have interned in the Office of International Studies at Northeastern; assisted with the annual International Student Orientation at Boston University; have traveled to Turkey, Greece, Ukraine, and China; and speak Mandarin. I am interesting in building a career in an international student office at a university or college.
3. Practice, practice, practice...
...in front of a mirror, with your mother, with your best friend, and in the presence of your most critical sibling. Make sure you know this speech backward and forward.
4. Use the speech all the time.
At the NAFSA conference, or any place where you are conversing with someone, ask that person, "What do you do for a living?'' After he or she responds, only a narcissist will not ask you in return, "And what do you do for a living?" Use your well-rehearsed elevator speech. Don't be surprised if one of those conversations leads to a job.
There you have it, your grand elevator speech and how to use it. Go out and prosper.
Interested in getting your résumé reviewed? There will be walk-in appointments available Tuesday, May 26 through Thursday, May 28 at the Career Center located in the Expo Hall. Please bring a copy of your most up-to-date résumé with you.
---
Carol Crosby is Assistant Director in Career Services at Bridgewater State University. She has also worked in the field of student affairs at Wesleyan University, University of Connecticut, and Brandeis University. Collectively, her experience in career counseling has spanned over 12 years. In 2013, she received a Fulbright grant to visit career services offices in universities across Germany and is currently working with the Ministry of Education in Belize on career development modules for at risk students. She received her M.S. in College Student Personnel from the University of Rhode Island and her B.A. in English from Wheaton College in Norton, MA.