If you haven't already booked your flight or if you are looking for ways to spend some free time outside of Vancouver, I have a number of recommendations for you to consider. Vancouver is filled with great activities that I'll be sharing with you in the next few weeks, but today I will begin with a taste of some of the top spots outside the city's center.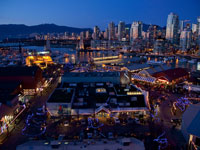 Market Day
Granville Island is just a five-minute boat ride away from the southern edge of downtown (great photo-ops en route). Come with an empty stomach so you can take advantage of the delicious food for sale throughout the market. Originally an industrial site, Granville Island is now home to the city's largest fruit and vegetable market and the city's art school, Emily Carr University. Granville Island is also home to workshops and galleries, the Arts Club Theatre Company, and the Kid's Market.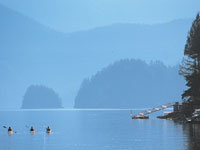 The Great Canadian Rockies
The Canadian Rockies, the majestic backdrop to the Vancouver skyline, is one of the city's favorite playgrounds. Cypress, Grouse, and Seymour are just a 30-minute ride from the city's center and offer some of the best hiking and skiing around. If you're up for a challenge, do the Grouse Grind, a steep 2.9 km hike up Grouse Mountain. If you prefer a little less sweat with your hiking, check out the many other trails. While in the North Shore, don't forget to visit the Capilano Suspension Bridge, which spans 136 meters over the Capilano River and the Salmon Hatchery, or head over to Deep Cove for a day of kayaking.
Flower Safari
Flip through any travel album from a visitor to Vancouver and you are bound to find flowers galore. Come spring, and just in time for the conference, the city's gardens bloom with an amazing variety of flowers. Queen Elizabeth Park boasts some of the best selection and is also home to a Bloedel Conservatory. VanDusen Botanical Garden is also a local favorite and offers daily guided tours.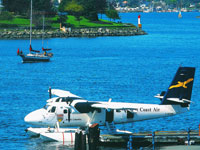 Victoria, British Columbia,
(Paula Ceroni from the University of Victoria explains why a trip to Victoria is worth it.) I hope NAFSA (conference) participants will be able to visit the city of Victoria, British Columbia's beautiful and renowned capital on Vancouver Island. This is the city where I have lived for the past nine years, and have grown to love! Taking a scenic ferry ride or float plane, an experience in itself from Vancouver, you will arrive in a city that blends historic charm and natural beauty with a vibrant downtown core.
If you're coming before NAFSA (the conference), experience the sights, sounds, and tastes of the city as it hosts the 2011 Swiftsure International Yacht Race from May 28-30. But no matter when you come, Victoria offers an incredible range of experiences! Indulge at one of our many fine restaurants and cafes offering international or West-coast fare; go golfing, hiking, whale watching, or find your bliss at one of our many renowned spas and wellness retreats. You could easily spend the day shopping and discovering our designer boutiques. Explore the city on a walking tour (we have Canada's oldest Chinatown), in an elegant horse-drawn carriage through a Victorian garden, atop an open double-decker bus, or by water on a harbor ferry (I refer to them as harbor pickles —you'll see why when you lay eyes on them!). I hope you'll get a chance to visit - Victoria is definitely worth the trip!
Other Victoria highlights:
If you have additional recommendations, please be sure to share them with your colleagues by posting your comments.
---

Carol Zachs is the Local Arrangements Committee (LAT) communications chair for NAFSA's 2011 Annual Conference & Expo. After completing an internship in 2000-01 at the University of Aarhus' International Secretariat in Denmark, Carol has worked in the field of international education ever since. Currently, she serves as the manager of study and research abroad at the University of British Columbia, where she is also completing graduate work in education. Originally from Mexico City, Carol has been a Vancouver resident for the past 24 years. Carol looks forward to showcasing what Vancouver has to offer to all of the conference attendees.