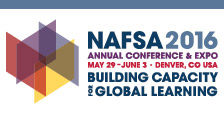 As chair of the NAFSA 2016 Annual Conference & Expo Annual Conference Committee (ACC), I have had the distinct honor of working with ACC content chair Sara Thurston and an outstanding ACC team to develop a rich and diverse range of educational opportunities for NAFSA 2016 that will make this year's program in Denver, Colorado, one of the best ever.
Collectively the ACC read more than 600 proposals and worked with over 250 reviewers to develop an exciting and exceptional offering for participants.
The theme of the 2016 Annual Conference, Building Capacity for Global Learning, challenges all of us to think about the ways our work facilitates learning and makes the international education field so successful. Deepening global learning for students, scholars, and researchers is, ultimately, the reason we do what we do, whether you are in immigration advising, recruitment, education abroad, administration, teaching, or the service industry. In addition, we attend the NAFSA Annual Conference to learn with and from each other in order to build our individual skills and knowledge that will enhance capacity at our home institutions.
In this context, sessions, workshops, and posters will explore definitions of global learning, and model practices in advising, international recruitment, and admissions. Participants will be able to explore ethics and diversity in international education; approaches to comprehensive internationalization; global and regional trends; and much more.
Preconference workshops also play a key role in supporting the conference theme and topics. All of the workshop trainers are hard at work to provide excellent sources for in-depth professional development.
Poster fairs have grown tremendously over the past several years and are incredibly effective and productive for longtime conference attendees and newcomers alike. This year there are 16 themed fairs. If you haven't attended a poster fair at a recent conference, make sure you go to one in Denver! They provide a great opportunity to share valuable knowledge in a one-on-one atmosphere.
The NAFSA Annual Conference is a unique community. It is a large gathering, united by the mission, vision, and passion we all share as professionals in this dynamic field. I am struck by the genuinely caring atmosphere of the conference that makes it a truly welcoming and fulfilling experience. You will make and renew friendships at the conference that can last throughout your career and life.
Another unique aspect of the NAFSA conference is the comprehensiveness of the educational program. You can experience a full array of learning that enhances job readiness and addresses day-to-day work challenges across all areas of international education, while learning about global trends and initiatives in international education that can advance institutional-level goals.
I very much look forward to seeing you in Denver!
---

Inge Steglitz is chair of the NAFSA 2016 Annual Conference & Expo Annual Conference Committee. She currently serves as the acting director of Michigan State University's (MSU) Office of Study Abroad where she oversees a professional staff of more than 20. Additionally, in her role as assistant director for academic relations, she provides leadership for academic outreach initiatives; supports faculty and staff interested in education abroad research and scholarship; coordinates MSU's Freshman Seminars Abroad; and runs the office's internship program. A native of Germany, she earned her PhD in intercultural communication from the University of Minnesota-Twin Cities Campus.