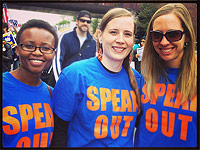 While members of Congress have left the halls of the Capitol to venture home for the holidays, the unfinished work they leave behind – commonsense, comprehensive immigration reform – will not disappear with the start of the new year. And neither will we.
The pro-immigration reform movement is growing stronger each day. People across the country are standing up, speaking out, protesting, rallying, fasting, and more.
What motivates us?
Every day 1,100 people are deported and separated from their families, jobs, and homes. The vast majority of these men, women, and children would qualify for a legal status under pending immigration legislation. Deporting them is arbitrary, wastes resources, and contradicts the values of our nation.
As international educators, you see evidence of a broken immigration system every day and bring a unique perspective to this debate. You may have counseled a DREAMer, an undocumented student, struggling to find the funds for the following semester, or a way to study abroad with his fellow students. Or you may have advised an international scholar whose visa application was delayed who then missed the start of a cancer research trial that she was leading, or an international student who is hesitant to attend college in the United States because of the limited opportunities available to remain and work after graduation.
It is stories like these that motivate us to continue to fight for immigration reform. We want the United States to be a competitive place for the best and brightest to study, we want to welcome all the academic, cultural, and economic benefits international students contribute to our local communities, and we want to improve the face we present to the world.
Our successes this year also provide us motivation. This time of year is naturally a time of reflection. If you are a member of Connecting Our World (also known as "CoWorld" for short) or have joined in on any of our advocacy activities over the past year, here are just some of what we achieved together:
Passage of S. 744, the bipartisan immigration reform bill by the U.S. Senate in June.
Supported positive international education-related provisions and defeated harmful amendments (read more: 5 Reasons the Senate Immigration Bill Advances International Education and Understanding).
Collection of more than 2,650 signatures on a petition urging the House and Senate to pass immigration reform this year during NAFSA: Association of International Educators' annual conference in May. The petition was later hand-delivered to House and Senate leaders by some of our dedicated advocates.
Hundreds of meetings and events around the country we attended with members of Congress and their staff to speak out in favor of immigration reform.
Dozens of submissions of letters to the editor to local newspapers in August and November. (Here's one example and here's another).
Record numbers of international educators and students at NAFSA's annual Advocacy Day who all met with their senators and representatives on Capitol Hill in March.
Strong turnout at immigration reform rallies around the country throughout the year.
Connecting Our World advocates delivering a petition for commonsense immigration reform – signed by over 2,650 NAFSA conference attendees and more – to Congressional leadership in June 2013.
We all should be proud of these successes. We are an important part of the largest and most diverse coalition ever to fight for commonsense, comprehensive immigration reform, and we will not give up.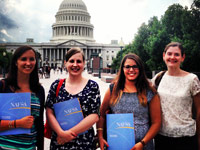 We know that all major legislation takes time to get through Congress. It is never an easy process. Experts say there will be several windows of time in 2014 for the House of Representatives to pass immigration bills.
And when those windows of opportunity open, we will be ready because this fight isn't over until we say it is over. Too many students, scholars, family members, workers, and children are depending on us to succeed.