Banner Signage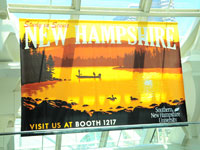 Whether as a stand-alone placement or part of a fully-integrated marketing plan, banner signage is the perfect opportunity for organizations looking to spread their exposure during the 2019 Annual Conference & Expo. Any banner placement can be custom designed by you to increase your brand awareness and grab the attention of our highly targeted audience.
Price: Varies (see below)
What You Get
Your choice of banner placement(s) throughout the Walter E. Washington Convention Center
Advisement on placement to help guarantee high-traffic visibility
Placement from May 26 until May 31, 2019
The Details:
Advertisers may choose to produce and ship banners independently or have production provided by NAFSA's contractor, Freeman Decorating Service*
Costs for rigging are included in the banner prices provided below**
Production and rigging cost vary by banner
Hanging Banners
Present your message and brand outside of the Expo Hall with a one or more large, well-placed banners. Hanging banners offer advertisers extensive customized branding space that can help you maximize your engagement with NAFSA's conference attendees and get the most out of your conference experience.
Price:Starting at $4,000
Pillar Wraps
This excellent, cost-effective option brings your message at eye-level among NAFSA's conference attendees. Purchase several and develop a creative marketing campaign that builds your brand awareness and drives business at conference.
Price: $4,500
Number Available: Multiple
More Details
Pricing Information
Price: The advertiser assumes all responsibility for design, production, and delivery* of banner(s). This price includes banner hanging costs**. Any third-party produced banners must arrive at Freeman Decorating Services Warehouse between late-April, 2019 and mid-May, 2019 Banners arriving outside this time frame could incur a late fee. Third-party produced banners will be available for pick-up following the conclusion of the NAFSA 2019 Conference & Expo in Washington, D.C. Details on banner pick-up location will be announced in early May 2019.
Price with production: This price includes the cost of printing, producing, and hanging your banners. The advertiser is responsible for submitting signage artwork no later than April 6, 2019. Artwork received after this date may incur a late fee.
*Any advertiser that chooses to produce and ship banners are responsible for material handling fees charged by Freeman Decorating Service.
**Additional costs may be incurred on a case by case basis.