Best-selling Author Malcolm Gladwell to Address NAFSA 2015 Annual Conference and Expo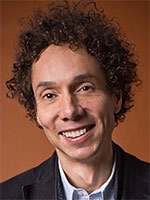 In recent weeks, NAFSA has unveiled a line-up of speakers for its 2015 Annual Conference & Expo in Boston, Massachusetts, that includes many of the world's leading voices for peace, equality, and justice: Shiza Shahid, cofounder and ambassador of the Malala Fund; Tawakkol Karman, Nobel peace laureate; and Ishmael Beah, human rights activist and former child soldier.
These speakers will inspire us with the strength of their commitment and their fierce dedication to improving the lives of citizens worldwide. They embody both the spirit of NAFSA and the global intent of international education.
NAFSA now completes this line-up with the addition of best-selling author Malcolm Gladwell, one of the most celebrated and thought-provoking writers today. Gladwell's work explores the complex and unexpected characteristics of human behavior and social norms, uncovering compelling insights that help build a foundation for better understanding and unity among diverse peoples and cultures.
"The key to good decision making is not knowledge. It is understanding. Our world is desperately in need of more understanding and international education provides incredible opportunities for students to develop the skills and habits needed to contribute to greater global understanding," said Gladwell. "I am excited to address international education professionals who enable opportunities for students and help build tomorrow's global leaders."
Gladwell will share his thought-provoking observations and experiences during the opening plenary address at the NAFSA 2015 Annual Conference & Expo on Tuesday, May 26, 2015, in Boston, Massachusetts, sponsored by Education in Ireland.
Learn more about Malcolm Gladwell and all of the 2015 Annual Conference plenary speakers.