KC ISSS Connector Program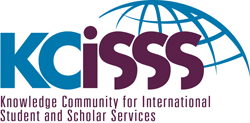 The Knowledge Community of International Student and Scholar Services (KC ISSS) provides professional development opportunities for international student and scholar advisers and for those who work or volunteer in campus and community-based international programming.
About the Program
The KC ISSS Connector Program matches professionals who are new to NAFSA's Annual Conference with seasoned professionals ("Connectors") who have previously attended and are familiar with the annual conference.
Connectors will:
Help first-timers navigate the annual conference and inform them of networking opportunities at the conference and beyond;
Maneuver conference schedule of events;
Be available for questions leading up to the annual conference in Washington, DC
Connector Program Timeline
Friday, April 19: Deadline to apply
Friday, May 3: Matches are notified by email
Friday, May 10: Make sure to contact your Connectors!
ISSS at NAFSA 2019
Please join us for the following KC ISSS events at the 2019 NAFSA Annual Conference:
KC ISSS Update Meeting - Monday, May 27 4:30pm-5:15pm
Meet the member-leaders of the Knowledge Community for International Student and Scholar Services (KC ISSS) activities, new initiatives, resources, and online networks that support ISSS professionals.
International Student and Scholar Services Networking Reception - Monday, May 27 5:30pm-7:30pm
Network with other conference attendees and NAFSA staff in the ISSS field.
Open Meeting: Tips for Newcomers to International Student and Scholar Services (ISSS) - Tuesday, May 28 11:30am-12:30pm
Start networking with colleagues, get tips on how to navigate the sessions and events, and learn how NAFSA and the ISSS Knowledge Community can help you!
Questions? Contact [email protected]