2018 Region I Conference

Conference Welcome
October 15-19, 2018
The Westin Bayshore
Vancouver, British Columbia
The NAFSA Region I conference brings together the region (Oregon, Washington, Idaho, Alaska, British Columbia) and beyond for a 4 day conference every fall. We host over 50 sessions on a variety of topics, 25 exhibitors and a gala silent auction raising money for travel grants. Please read the welcome letter from the Region I chair, EJ Brin, and explore the site below for further details.
Welcome to the Region I conference

2018 Social Media Contest


Get social during the conference by mentioning @nafsaregion1 and tagging #NAFSAR1 between October 15-18 at 6:00 p.m. Attendees with at least two posts will be entered into a "free drink" raffle at the Gala.
Program and Schedule
Online Live Conference Schedule - Use this link to see the most up-to-date information.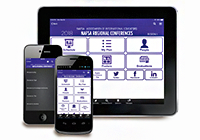 Conference App: Download the "NAFSA Conferences" app from the Apple App Store or Google Play Store.
Select "Regional Conferences" and then select your regional event app from the list. Login with your registration email address and confirmation number
PDF conference schedule

  - The conference schedule is subject to change, please check the Online Live Conference Schedule above for the most up-to-date information.
CEP Workshop Offerings - Tuesday, October 16
F-1 Advising for Beginners (8:30AM-5:30PM)
F-1 Advising for Intermediate (8:30AM-5:30PM)
Intercultural Communication (8:30AM-5:30PM)

Other Important Dates
August 27
Full conference schedule available
October 5
Final deadline for pre-conference workshop registration
Registration
A note on currency: All conference registration prices are listed in USD.
Attendees from Canada will receive 15% discount on regular conference registration if they register by September 9 to account for the exchange rate. In order to be eligible, you must register with a Canadian address. The registration code for this discount is CAN15. 
Conference Registration Rates & Timeline
July 16

Conference registration opens - $260 registration rate (NAFSA and non-NAFSA members);

Pre-conference workshop rates - $250 for NAFSA Members |  $350 for NAFSA Non-Members 

September 10
Late registration rate begins for non-NAFSA members - $310 (NAFSA members continue at regular rate)
October 5
Final deadline for pre-conference workshop registration
Housing and Travel
Registration for hotel accommodations at the conference hotel is now open. The special conference rate expired on September 24th, but attendees may book rooms at the regular Westin Bayshore rate while space is available.
The Westin Bayshore - Conference Hotel Site
Vancouver, British Columbia
Exhibitor and Sponsor Information
Exhibitor and Sponsor Availability
Exhibitor & Sponsor Information
April 27
Exhibitor sales open to NAFSA Global Partners - $600 (less 10% discount for Global Partners)
June 18
Exhibitor sales open for non-NAFSA Global Partners - $600
September 10
Late Exhibitor sales - $700
October 5
Final deadline for exhibitor sales
Case Study Competition
Join Region I's first International Education Case Study Competition!
What is it: Teams will be given a scenario touching on pan-NAFSA issues and will create a 15 minute presentation with their recommendations to be evaluated by an esteemed panel of judges. Winners will be announced at the Thursday night Gala Auction during the Region I conference in Vancouver.
When: October 16-18. Teams will meet informally at the Tuesday Newcomer Reception during the Region I conference, participate in a Kickoff meeting on Wednesday morning, and will present their solutions to the judging panel on Thursday afternoon.
Who: Newcomers and Academy participants are especially invited to participate. Experienced practitioners are encouraged to volunteer to be mentors to the teams.
Why: Prizes! And professional development.
How: Review the Case Study Competition Overview

and then reach out to the Case Study Competition team, Machelle Allman ([email protected]) and Kathy Gallentine ([email protected]) with questions.
Awards and Travel Grants
Prospective conference attendees may apply for Region I travel grants to supplement travel expenses. Grant recipients are expected to complete at least four hours of volunteer time during the conference.
Gala and Silent Auction
Submit information about your donated item here.
Donate to the Region 1 Gala Auction which will take place at the regional conference, Thursday, October 18, 2018, in Vancouver, B.C.! Proceeds go to support the regional travel grants, allowing educators to attend NAFSA regional conferences and Advocacy Day. Ideas for donations:
a copy of your favorite page-turner
a bottle of wine for the wine tree!
a basket of items from your state or province
scarves - we will do a scarf pull again this year!
any homemade items (jewelry, coffee, art, ceramics, etc.)