2005 Conference Local Area Information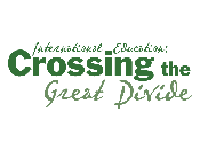 2005 NAFSA Bi-Regional Conference
November 8-11, 2005
International Education: Crossing the Great Divide
Join Region II and III colleagues at the "Grande Dame of the Rockies," The Broadmoor Hotel and Resort. It truly lives up to its reputation as a five star hotel. The resort hotel has been the destination of hundreds of presidents, statesmen, foreign dignitaries, and celebrities. From its state-of-the-art fitness center to its relaxing rustic environment and mountain backdrop, it is not to be missed.
Conference Registration
The bi-regional conference will offer sessions and workshops for professionals at all levels. Registration for the conference can be done through the NAFSA online system, or you can print out a registration form.
Reservations at the Broadmoor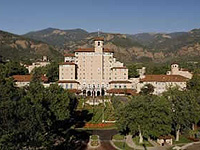 Make sure also to book your hotel room by following the group reservation links from the Broadmoor website.
Like all resorts, the Broadmoor offers many conveniences for registered guests, including unlimited access to the Broadmoor Spa Fitness Center, free local calls from rooms, delivery of a daily newspaper, in-room coffee service, and valet parking. A resort fee of $14 per person per night for single or double occupancy (and $2.50 per additional person in a room) to cover these services. This fee will be automatically added to your room charges.
Parking at the Broadmoor
If you have a car during the conference and are staying at the Broadmoor Resort, valet parking is complimentary. If you are staying at another hotel, you can park in the new underground garage at the Broadmoor Center, which is right next to the International Center and Colorado Hall where most conference activities will take place. Parking rates: $8 per day for valet parking $5 per day if you park in the garage yourself.
Other Hotels
Antlers Hilton
4 S. Cascade Avenue
Colorado Springs, CO 80903
Tel. 866-299-4602
Distance from conference site: 3.5 miles
Sheraton Colorado Springs
2886 S. Circle Drive
Colorado Springs, CO 80906
Tel. 719-576-5900
Distance from conference site: 3 miles
Doubletree Colorado Springs
1775 Cheyenne Mountain Blvd.
Colorado Springs, CO 80906
Tel. 719-576-8900
Distance from conference site: 2.5 miles
Bed and Breakfasts
Cheyenne Canon Inn
2030 W. Cheyenne Blvd
Colorado Springs, CO 80906
Tel. 719-633-0625
Distance from conference site: less than 1 mile
Hearthstone Inn
506 N. Cascade Ave.
Colorado Springs, CO 80903
Tel. 719-473-4413
Distance from conference site: 5 miles
Room at the Inn
618 N. Nevada Avenue
Colorado Springs, CO 80903
Tel. 719-442-1896
Distance from conference site: 5 miles
About Colorado Springs
Located 60 miles south of Denver and less than two hours from world-class skiing, Colorado Springs is a vacation mecca, drawing over 6 million visitors annually. Founded in 1871, the city has evolved from a quaint, Victorian spa town (the clean, dry air was good for tuberculosis patients) into an international city with nearly 400,000 residents, and many fine restaurants, museums, galleries, and specialty stores. Receiving over 300 days of sunshine annually, the city offers an abundance of recreational activities throughout the year. Some of the area's most popular attractions include the U.S. Air Force Academy, Garden of the Gods, Royal Gorge, and Cheyenne Mountain Zoo. The city's most prominent landmark, Pikes Peak, is also a favorite tourist destination. At 14,100 feet, it is one of Colorado's highest mountains, and even inspired Katherine Lee Bates to write "America the Beautiful" over a century ago.
More information about the city is included below. We look forward to welcoming you to Colorado Springs!
Getting to Colorado Springs
By plane
Many airlines offer direct flights into Colorado Springs. The airport is approximately 8 miles from the Broadmoor Hotel and 9 miles from the downtown area. The Broadmoor charges $30 for round-trip shuttle service from the airport (check in at the Broadmoor Welcome desk near baggage claim or call 800-634-771 to make a reservation). Luxury town car and limousine services are also available. A one-way taxi fare from the airport to the Broadmoor is approximately $20.
The Denver International Airport is approximately 1½ hours by car from the Broadmoor. The Broadmoor also offers shuttle service from DIA to the hotel. The cost is approximately $230 each way. A complete list of companies providing shuttle service is located at www.flycos.com.
By car
Interstate 25 is the major highway into Colorado Springs. From Interstate 25, exit Circle Drive (#138). Turn west onto Circle. Follow Circle Drive, which becomes Lake Avenue, approximately 2.6 miles to the Broadmoor Hotel.
The following car rental agencies are located at the Colorado Springs airport:
Alamo/National (800) 462-5266
Avis (800) 230-4898
Budget (800) 527-0700
*Dollar/Thrifty (800) 800-4000
Enterprise Rent A Car (800) 736-8222
Hertz (800) 654-3131
*Dollar Rent-A-Car is the official car rental agency for the Broadmoor. Dollar has a branch in the lobby of the South tower at hotel. Call (719) 471-6300 to make a reservation or email [email protected].
Getting Around
While the Broadmoor Resort is located in the city limits of Colorado Springs, you should be aware that it is not practical to plan to walk to stores and restaurants downtown. There are many activities and several high-quality shops on the resort property, but those who wish to leave the Broadmoor on a regular basis should consider renting a car.
There is also public transportation to the city center; the #14 bus travels hourly from the Broadmoor to downtown. One-way cab fare from the hotel to downtown costs approximately $10. A free shuttle runs the length of the downtown area from 7:00 a.m. to 9:00 p.m. on weekdays, and until 1:00 a.m. on weekends.
Weather and Altitude
Colorado Springs enjoys moderate temperatures throughout the year and is protected from harsh weather by the Rocky Mountains to the west and the Monument Divide to the north. High temperatures in November average in the 50's, and lows in the 20's, although snow is possible at any time in November.
For those who live at or near sea level, the city's altitude (6,035 feet) may take some getting used to. In order to prevent altitude sickness, visitors should:
Stay below 7,000 feet on the first day
Drink lots of fluids
Limit alcohol intake
If you do become breathless, nauseated, develop a rapid pulse, dizziness or a combination of these symptoms, take a moment to rest, and if possible, get to a lower elevation. If the symptoms persist, seek medical help to avoid complications.
Colorado Springs On Your Own
Dining
Colorado Springs offers a large variety of dining options. Local favorites include:
Adams Mountain Café
110 Canon Ave.
Manitou Springs
Tel. 719-685-1430
Cuisine: International, vegetarian
Amanda's Fonda
3625 W. Colorado Ave.
Tel. 719-227-1975
Cuisine: Mexican
The Blue Star
1645 S. Tejon St.
Tel. 719-632-1086
Cuisine: Fine dining
The Cliff House
306 Canon Ave.
Manitou Springs
Tel. 719-785-2415
Cuisine: Fine dining
The Craftwood Inn
404 El Paso Blvd.
Manitou Springs
Tel. 719-685-9000
Cuisine: Fine dining, Colorado cuisine
Luigi's
947 S. Tejon St.
Tel. 719-632-7339
Cuisine: Italian
Phantom Canyon Brewing Co.
2 E. Pikes Peak Ave.
Tel. 719-635-2800
Cuisine: Pub style menu
Saigon Café
20 E. Colorado Ave.
Tel. 719-633-2888
Cuisine: Vietnamese
Cultural/Recreational Activities
Visit the web sites below to see more about Colorado Springs, the Broadmoor Resort, and the surrounding area. This is a great city for family activities.
The city has over 50 major area attractions. A few of the most visited:
Shopping
Colorado Springs has a number of malls, boutiques and specialty stores. More information is located at www.experiencecoloradosprings.com.
Banks
Adams Bank and Trust
265 E. Cheyenne Mtn. Blvd
Tel. 719-448-0707
UMB
290 E. Cheyenne Mtn. Blvd
Tel. 719-540-5600
Wells Fargo Downtown
90 S. Cascade Ave.
Tel. 719-636-1361
Childcare
Babysitting services provided through the Broadmoor are available for children of all ages. The hotel requests a week's notice for babysitting arrangements in order to ensure the availability of a sitter.
Copy Centers
Office Max (in the Cheyenne Mountain Center)
1640 Cheyenne Mtn. Blvd.
Tel. (719) 527-6560
Hours: M-F 8-9, Sat 9-9, Sun 10-7
Kinko's (downtown)
1223 N. Nevada Ave.
Tel. (719) 633-6683
Hours: M-T 7-11, Fri 7-7, Sat 9-5, Sun Closed
Grocery Stores
Albertsons
455 E. Cheyenne Mountain Blvd.
Par Avion
1872 Southgate Rd.
Medical Care
Penrose Hospital
2222 N. Nevada Ave.
Tel. (719) 776-5000
Memorial Hospital
1400 E. Boulder St.
Tel. (719) 365-5000
Emergicare Medical Clinic
402 E. Garden of the Gods Road
Tel. (719) 590-1701
Movie Theaters
Tinseltown Movies 20
1545 E. Cheyenne Mtn. Blvd.
Tel. (719) 576-0593
Broadmoor Theater
Check Concierge Desk for show times