2006 Region II Conference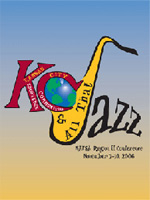 Region II had its annual conference in Kansas City on Nov. 7-10, 2006.
The conference theme was "KC and all that Jazz", and there was plenty of jazz music and barbecue restaurant's amidst all the good training in international education. We were at the Hyatt Regency Crown Center in the heart of Kansas City. Easy walking distance to shopping and restaurants.
Specific registration, hotel and travel information was posted on this sight during the summer. Hopefully your plans included joining us for a great time in Kansas City in 2006!
Although the conference is over, you can peruse the site to see what was offered.