2015 Conference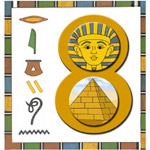 The Region VIII Team is excited to be able to invite all international educators in the region to the 2015 Region VIII Conference being held in Alexandria, VA November 10-13, 2015. This page will connect you to all the information you need to know about the conference. Please check back regularly for updates and other important information. See you in Alexandria!
Welcome to the 2015 Region VIII Conference
On behalf of the Region VIII Team, it is my pleasure to welcome you to Alexandria, Virginia and the annual NAFSA Region VIII Conference. This year's conference location is minutes away from Washington, DC and Old Town Alexandria, both of which offer abundant restaurants, shopping, historical and cultural attractions. Our opening reception will be held at a truly unique venue, Alexandria's Torpedo Factory Art Center, a former World War II factory that is now home to dozens of local working artists. For additional local opportunities, be sure to speak with a member of the Local Arrangements Team, co-chaired by Bronwen Watts and Betty Watts, and supported by a group of wonderful volunteers from Northern Virginia.
As always, there are many networking and social events during the conference. For a list of all of our events please view our Guidebook app on your Smartphone or on the web.  These events provide excellent opportunities to get to know your fellow NAFSAns and learn from one another. We want to encourage our new international education professionals, and those new to Region VIII, to join us at our Newcomers' Session on Wednesday. We are also excited to offer both a Port of Entry excursion to nearby Baltimore-Washington International Airport, as well as a special workshop for those looking to break into the field.
This year we are pleased to sponsor our third annual Silent Auction to raise money in support the Region VIII Scholarship funds and outreach programs. Please take a moment to look through the items available and place a bid on the thing/s you can't live without, while helping your fellow NAFSAns be able to participate in our professional organization.
If you have questions throughout the conference, please feel free to stop by the Registration table and speak with a member of the Region VIII Team. We look forward to hearing more of your interests and suggestions throughout the week.
Have a great conference!
Genevieve Cook
Region VIII Chair-elect
2016 Conference Chair
Director, Office of International Services
University of Pittsburgh

Our Fearless Regional Team