About Region VIII
NAFSA Region VIII is one of NAFSA's 11 geographic regions. Each region is governed by an elected chair and a team of representatives from the various NAFSA professional sections and educator groups.
Leadership Team
Want to learn more about Region VIII? Have a specific question for someone on the team? Meet the Region VIII Leadership Team.
Open Positions
The following positions are currently open:
Treasurer
EA KC Representative
IEM KC Representative
Conference Planner Apprentice
If you are interested in the above positions, please contact Region VIII.
Professional Development
Region VIII offers professional development for all international education practitioners in the region through the annual regional conference and on-demand workshops.
Networking
Various networking groups throughout Region VIII provide local resources and support. Formal and informal networking opportunities are available throughout the year, including conference events and no-host happy hours.
NAFSA Region VIII Mentor Program
Now in its fifth year, nearly 200 members of NAFSA Region VIII have participated in the Region VIII Mentor program. The regional team is committed to connecting members of the region on an annual basis in a formal mentor - mentee pairing for nine months.
The program runs from March - November
Mentor/mentee matches receive e-introductions by the end of March
Meet with your mentor/mentee at least four times by phone, Skype, or in-person between March to November
Bi-weekly emails are shared with all participants to suggest meeting ideas and topics
Applications will open in January - February 2019
Interested in participating as a mentor or mentee? Email [email protected].
Awards
Every year at our region's annual conference we recognize individuals who are making significant contributions to the field of international education and exchange. We welcome nominations for both of our regional awards throughout the year. Learn more and submit a nomination today
Outstanding Contribution to Region VIII Recipients
Delores (Delo) Blough, James Madison - 2016
Senem Bakar - 2015
Arlene Wergin - 2014
Scott King - 2013
Helene Robertson - 2012
France Pruitt - 2011
Will Conard - 2010
Chris Musick - 2009
Annie Hill - 2008
Cas Sowa - 2008
Linda Gentile - 2007
Janice Bogen - 2006
Masume Assaf - 2005
Kathy Bellows - 2004
Timothy Thompson - 1997
Margaret (Peggy) Pusch - 1994
Denise Connerty - 1994
Barbara Alvis - 1990
Ann Kuhlman - 1990
Suzanne Louis - 1990
Region VIII Rising Star Award Recipients
Region VIII also began awarding a Rising Star Award to individuals who are newer to the field but making great contributions. We look to them to be the future leaders of the organization.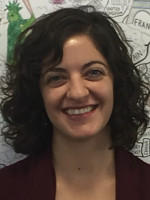 Kayla Gatalica, District of Columbia Public Schools - 2017
Conrad Zeutenhorst, University of Maryland - 2016
Anthony Naglieri, Cultural Vistas - 2015
Grants and Scholarships
The region has traditionally awarded travel grants to help offset the costs of attending the annual regional conference and Advocacy Day.