Image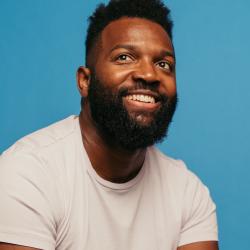 Baratunde Thurston
Writer, Activist & Comedian
Thursday, June 1
Baratunde Thurston is an Emmy-nominated, multi platform storyteller and producer operating at the intersection of race, tech, democracy, and climate. He is the host and executive producer of the PBS television series America Outdoors with Baratunde Thurston (pbs.org), creator and host of How To Citizen with Baratunde (baratunde.com) which Apple named one of its favorite podcasts of 2020, and a founding partner of the new media startup Puck (puck.news). 
His comedic memoir, How To Be Black (baratunde.com), is a New York Times best-seller. In 2019, he delivered what MSNBC's Brian Williams called "one of the greatest TED (baratunde.com) talks of all time." Baratunde is unique in his ability to integrate and synthesize themes of race, culture, politics, and technology to explain where our nation is and where we can take it. 
Baratunde serves on the boards of Civics Unplugged (civicsunplugged.org), BUILD.org, and Brooklyn Public Library (bklynlibrary.org) and lives in Los Angeles, California.