Image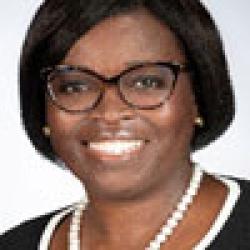 DeBrenna LaFa Agbényiga, PhD
Bowie State University
DeBrenna LaFa Agbényiga, PhD, joined Bowie State University as provost and vice president for academic affairs in July 2018. She serves as the chief academic officer, responsible for overseeing the academic and research enterprise of the university, ensuring the quality of the faculty and student body, and maintaining educational excellence.
Prior to Bowie State, Agbényiga was vice provost and dean of the graduate school and professor of social work at University of Texas at San Antonio. She also previously served as associate dean for graduate studies and inclusion in the College of Social Science at Michigan State University. She was the founding director of the college's Office of Equity, Diversity and Inclusive Academic Affairs.
Agbényiga's research spans organizational culture, international social and economic development, community development and sustainability, women's rights, children's rights, gender-based violence, cross-cultural learning, and diversity. She has spent numerous years working globally, and more extensively in Africa, as a researcher and consultant to numerous ministries, nongovernmental organizations, and universities. Her research has been published in leading social work journals including the Journal of Social Work Education, Children and Youth Services Review, Administration in Social Work, and Advances in Social Work. She has coedited two books and several book chapters.
Agbényiga earned her doctoral degree in social work, MBA in strategic management, and a master of social work degree in social work-urban studies, all from Michigan State University. She obtained her bachelor's degree in criminal justice from the University of South Carolina-Columbia.