Image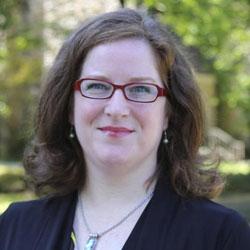 Erin Hillis, PhD
Director of International Programs
Rhodes College
2022 Regional Affairs Committee Chair
Erin Hillis, PhD, is the director of the Buckman Center for International Education at Rhodes College in Memphis, Tennessee, and the 2021 Regional Affairs Committee (RAC) chair-designate.
In her current role, Erin is responsible for all aspects of international education at the College, including international student services, immigration regulatory compliance, education abroad/away, and faculty-led program development. She received her PhD in applied linguistics from The University of Memphis and teaches a two-course TEFL sequence resulting in Educational Studies' "150 Hour Teaching English as a Foreign Language Certification" for Rhodes' students.
Erin is a past chair for NAFSA Region VII and has served in multiple leadership roles within the Tennessee Association of International Educators and the international student recruiting consortium, Study Tennessee. She has been in the field of international education since 2004 and routinely presents for national conferences on topics such as diversity in study abroad, LGBTQ issues in international education, academic ethics across cultures, and international student academic support. Her research areas include LGBTQ domestic and international student issues, issues related to underrepresented student populations and study abroad, second language acquisition, and linguistic challenges faced by international students at U.S. institutions. She is a member of the Phi Beta Delta honor society for international scholars.