Image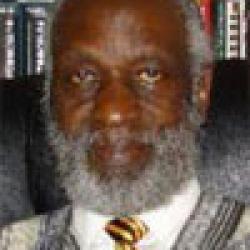 James Luyirika-Sewagudde, Jr.
Responsible Officer (RO) and Principal Designated Official (PDSO)
California State University Chico
James Luyirika-Sewagudde, Jr. received the 2013 KC ISSS Award of Excellence.
Luyirika-Sewagudde, Jr. has been a member of NAFSA since 1975 when as a graduate assistant he started what he considers a rewarding, exciting and educational journey. Earlier in his career he had the opportunity to serve as Chair of Region XII lead team. He has been actively involved in the affairs of the region and in particular as a member of NAFSA's Trainer Corps. It is his belief that serving on the Trainer corps is a reward in itself given that one is always engaged with peers, new professionals and team members and has access to the most recent information available in the field with a perfect delivery vehicle. The fact that he can be of value to other professionals whenever a need arises is an added reward.
James was selected to and serves as a Coach for the NAFSA Academy. He considers this a distinct honor and privilege to be working closely with other Coaches across the country and the NAFSA Academy Staff who are a dedicated, competent and passionate group of fun professionals. He has the enviable position of working with trainees, professionals in the field who, it is apparent, will take leading roles in the various sectors of International Education. Undoubtedly, James contends, his continuing interactions with students, be it in classrooms, organizations, in the office or during random encounters, bring him unparalleled joy and satisfaction.
Currently James serves at California State University Chico as the Responsible Officer (RO) and the Principal Designated Official (PDSO) responsible for the relevant processes from orientation to status and compliance. Born in Uganda, he holds a bachelor's degree in Psychology from Gustavus Adolphus College, a master's degree in Education with an emphasis on comparative education, and also a master's in Psychology from California State University, Chico. He has studied in Costa Rica and also spent some time as a Fulbright Scholar in South Africa. Additionally, James has spent considerable time studying and researching issues around intercultural communication and intercultural competence and has led several related conversations and workshops with the belief the peace is possible.