Image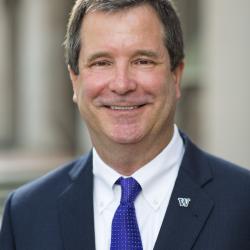 Jeff Riedinger, PhD
Vice Provost for Global Affairs
University of Washington
As vice provost for global affairs at the University of Washington, Jeff Riedinger had leadership and administrative responsibility for the institution's diverse global programming including support for international research, study abroad, student and faculty exchanges, and overseas centers. He worked with colleagues across the university to develop and sustain strategic partnerships with universities, corporations, foundations, government agencies and non-governmental organizations around the world to advance cross-continent research, teaching, and engagement collaborations that address some of the world's most pressing problems and most promising opportunities. He retires in the summer of 2023.
As a legal scholar and comparative political scientist, Dr. Riedinger had a developing area focus, with special emphasis on Southeast and East Asia. Dr. Riedinger was involved in a long-term applied research project on land tenure security in China with colleagues in the U.S. and China.
Dr. Riedinger previously served as president and chair of the Board of Directors for NAFSA and is currently a board member of Global Washington and a member of the Washington Advisory Committee of the U.S. Global Leadership Coalition.
Dr. Riedinger earned a B.A. at Dartmouth College, a J.D. at the University of Washington, and a Ph.D. at Princeton University.