Image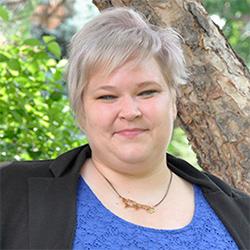 Katherine Mary Meyer
Hamline University
Chair, EA RP Committee
Katherine Mary, "Kate", has been in international education for over a decade in various forms: study abroad student from a low-socioeconomic/rural/first-gen background, EFL teacher, financial aid admin, and within study abroad offices. Their experience and years of service have led to concentrated advocacy concerning financial literacy (including research on institutional pricing models), greater resources for financially aware (low/limited socio-economic) students, and student veterans (GI Bill use advocacy), and building on an "out of the box" thinking for inclusion efforts.
Kate currently serves as the EARP Regulatory Practice Committee chair and began her career volunteering with NAFSA in regional roles.  Kate has also served as the EARP Federal Aid Subcommittee Chair and has led the creation of eLearning courses, conference sessions, and countless resources for NAFSA members.
Kate believes that transformative education experiences such as studying away/abroad are the key to creating a future generation that can face our global challenges. This means that these opportunities must be within reach for all students, no matter their identity, background, or financial circumstance. More than lip service on diversity initiatives is needed. As educators, we must actively challenge and change processes within higher education to truly have inclusive mechanisms that support and embrace difference.
Kate is the 2023 awardee of the EAKC Lily von Klemperer Award.