Image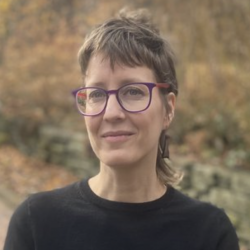 Lotte Buiting
Swarthmore College
KC EA Liaison, RegionVIII
Lotte is the Associate Director for Off-Campus Study at Swarthmore College. Previously she worked in the Education Abroad Office at Drexel University, and she has taught Spanish, literature and film at different institutions. 
She's active as a member of the Diversity Abroad Task Force for Faculty Resources and acts as a reviewer for Frontiers. She has served on the Research Advisory Working Group at the Forum on Education Abroad, and was a board member for HECUA. She has presented panels and posters on study abroad assessment, non-credit education abroad and mental wellness for diverse students at NAFSA national, and the Health & Safety Institute of the Forum. 
Born and raised in The Netherlands, Lotte first went abroad as a high school student, completing the I.B. program at the Lester B. Pearson United World College of the Pacific (Vancouver Island, Canada). During her College years, she studied abroad in Siena (Italy) for a year and in Madrid (Spain) for a summer. During graduate school she spent a year conducting research in Mexico City (Mexico). She holds an M.A. in Spanish and an M.Ed. in Second Language Acquisition from Utrecht University, and a Ph.D. in Romance Languages and Literatures from Harvard University.